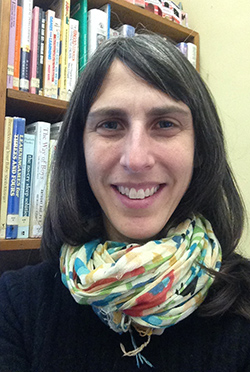 Meredith Jacoby is the new librarian at Joslin Memorial Library. The members of the board of trustees of Joslin Memorial Library made the announcement last week. The board invited the public to stop by to meet Jacoby.
Jacoby has been serving as the Saturday librarian for the past several weeks. She and her family have recently moved to Warren from Philadelphia.  She and her husband have three children and are very much involved in reading and music.
She describes herself as creative and motivated.  She owned a small business, "The Nesting House," for three years in Philadelphia, during which time she did purchasing, inventory tracking, small events planning, workshop development and budget, among other things.
Prior to starting her small business, Jacoby was co-director of "The Maternal Wellness Center," also in Philadelphia.  This was a holistic wellness center designed for pregnant women and new mothers. She managed all aspects of the organization, including fundraising, events planning, board reporting, overseeing volunteers and collaborating on the development and implementation of various outreach programs and initiatives. She also has grant writing experience.
She's a yoga instructor and has offered group and individual classes to a variety of people.
She's an avid reader and library lover. She looks forward to helping patrons "use the library as a gateway to lifelong learning," she said.
She also is looking forward to assisting and engaging each patron with the tools and resources the library is fortunate to offer.
She graduated from Temple University in 1999.
Joy Worland, who has served as librarian for five years, has done much to update collections and bring new technology to the library. She is moving on to Kellogg-Hubbard Library in Montpelier.
"We are happy she has this opportunity, though we will miss her. She promises she will return to do programs with her musician friends if we invite her to do so," said trustee Carol Hosford.
{loadnavigation}