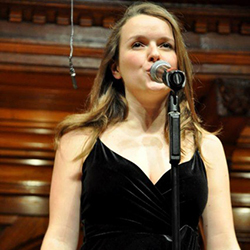 Sarah Reid (aka "Reid"), who grew up in the Mad River Valley and graduated from Harwood Union High School, has been invited to sing the national anthem with a few members of the a cappella singing group The Harvard Opportunes for the Harvard versus Yale hockey game at Madison Square Garden in New York City. The game will be televised nationally on the NBC Sports Network (NBCSN) at 8 p.m. this Saturday, January 10.
Last winter, Reid, who is in her senior year at Harvard College, toured Vermont with the co-ed singing group which made stops at Sugarbush Resort and Waitsfield and Warren elementary schools.
The Opportunes' rendition of "Barton Hollow," written by the group The Civil Wars, which featured Reid as a soloist, will be featured on this year's Best of College A Cappella, 2015 CD. The tune was selected from over 350 submissions from college a cappella groups from around the country. For more information see www.varsityvocals.com and www.harvardopportunes.com.
{loadnavigation}