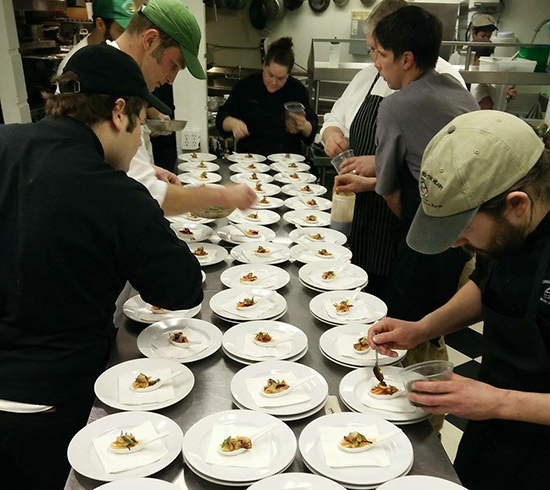 Thirteen chefs from Mad River Valley restaurants joined together at Round Barn Farm on Monday night to present the Mad 12 Tasting Dinner. Thirteen elegant tasting portions, starting with hors d'oeuvres and ending with two dessert courses, were served to 120 diners during the four-hour meal.
The event, hosted by Charlie Menard of Round Barn Farm and Adam Longworth of The Common Man, required teamwork and close coordination throughout the evening. Chefs, many who were meeting for the first time, helped plate and garnish one another's creations, and the courses were served at 15-minute intervals throughout the night.
Longworth says the dinner built great camaraderie among the chefs: "This is the first event like this since I have been in The Valley that required that the chefs all work together. This will strengthen our restaurant community. We hope to do more events like this in the future."
Charlie Menard was confident that the dishes would be exceptional. However, having never done an event of this magnitude, he knew that the execution of the courses and keeping to the necessarily tight schedule could be a challenge.
For a behind-the-scenes look at the Mad 12, it helps to know the china and glass requirements alone. Each diner had a four-wine flight tasting that required 480 glasses. Some 1,560 plates were needed for the 13 courses.
Menard's plan to keep to a necessarily tight schedule included turning the middle level of the round barn into the food preparation area.
"We had several long tables set up for plating the dishes and as one course went out, we immediately started the next. Servers were steadily streaming between the second level and the upstairs dining area, delivering food all night long," Menard said.
The waitstaff were servers from many of the restaurants participating in the event; all volunteered their time for the evening as did bartenders, bussers and dishwashers. The wine was donated by Joerg Klauck of Vermont Wine Merchants, plates and glasses were donated by Celebration Rental, Dole and Bailey provided some of the restaurants with meats for their dishes and Round Barn Farm provided the space and staff to coordinate the event.
Vermont Farm Fund was the beneficiary of the dinner and 100 percent of the ticket proceeds went to the organization that will in turn use the money to make loans to farmers recovering from emergencies or building their businesses. A silent auction and raffle helped bring the total amount raised to over $20,000.
Chefs participating in the Mad 12 were Tyler Lightheart, Mad River Barn; Ryan Mayo, Hyde Away; Jeff Lynn, Bridge Street Butchery; Iliyan Deskov, Mint; Ethan Chamberlain, American Flatbread; Rich Strub, Big Picture; Adam Longworth, The Common Man; Chris Harmon, The Elusive Moose; Charlie Menard, The Inn at the Round Barn Farm; Todd Dibkey, Timbers; Sue Schickler, The Pitcher Inn; Johnny Vitko, The Sweet Spot; and James Gioia, The Warren Store.
{loadnavigation}