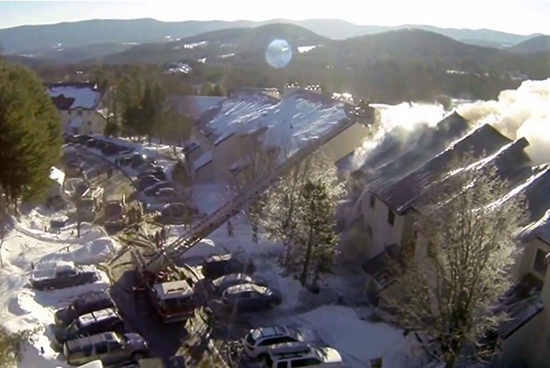 By Rachel Goff
Over a dozen property managers and just as many condo owners crowded into the Warren Select Board meeting on Tuesday, April 28, to share their concerns with an ordinance that would ban wood-burning fireplaces and stoves in all multi-unit dwellings surrounding Sugarbush Resort.
The meeting was the first in what will likely be a series of conversations as the town works to find a way to improve public safety without compromising a condo owner's right to heat their home in the way that they choose.
The ordinance, which went out to condo owners last week, was drafted by the Warren Volunteer Fire Department and Warren zoning administrator Miron Malboeuf after a fire at Mountainside Condos in February of 2014 burned down 36 units and a fire at Summit Condos in December of that same year took two units out of the rental rotation.
"We're looking at a lot of aging condominium stock," select board chair Andy Cunningham said, explaining that most of the lodging on the mountain was constructed back in the 1960s and 1970s, when building codes were very different from what they are today.
The ordinance was "oriented towards life safety," fire chief Pete DeFreest said, explaining that "we have been very lucky" with the last two fires that no one—neither a homeowner nor a fire department volunteer—was hurt.
The Warren Planning Commission met the previous night, Monday, April 27, to discuss the ordinance, "and my takeaway was that if we could reduce the risk for the homeowner … and for the fire department, shouldn't we do that?" asked planning commission and select board member Randy Graves.
But is a ban on all wood-burning stoves and appliances really the solution?
"Some people think it's a little overboard—a government intrusion on their way of life," Cunningham said, "and I totally get that." According to Cunningham, the ordinance "was intended to start this conversation," he said.
Indeed, "We've been in a vacuum for 20 years," one property manager said. "There's just been no communication about fire issues or safety issues. But we can do better."
"It's time we start talking and figure this out," DeFreest said.
In searching for alternatives to a ban on burning wood, many property managers pointed out the inherent dangers in other heating sources, including gas and electric. "Plugging in a space heater presents an enormous risk, when you're talking about old wiring and human error," one property manager said.
After the fire at Summit Condos last December, the state imposed a no-burn order on the complex until its fireplaces could pass a level III inspection. During the inspection, it soon became clear that Summit Condos' fireplaces were installed incorrectly to begin with, the complex's property manager explained. "There was no insulation, some of them had no sheeting … or no clearance," he said.
That being said, most condo owners were willing to spend the money to have their fireplaces replaced so that they could safely burn wood, the property manager explained. Instead of an outright ban on burning wood, "The workable solution is more oversight," he said. "There's nobody that's backing away from that. They're perfectly willing to submit."
According to the property manager at North Lynx Condos, the owners "have been found to be quite naïve about the importance of being in compliance," he said, but once they were informed, "They've been very receptive," he said. After the fire at Summit Condos, the owners themselves elected not to use their fireplaces until they could be inspected and they are now replacing them.
No one in the room challenged the fact that some change needs to happen to ensure the safety of condominiums on the mountain. "A catastrophe is almost imminent if we don't take this action," one property manager said, although another pointed out that by sending the ordinance out only to condos at Sugarbush, the owners felt "singled out," he said. If a similar ordinance is to go into effect, it should be for all multi-unit dwellings in town, he suggested.
Indeed, a second part of the ordinance, which states that condo owners or property managers will be required to register and maintain fire alarms and will be responsible for paying a fine if their alarm is activated by accident or because of unsuited equipment, should be modified so that it applies to everyone with a monitored system, DeFreest suggested, as false alarms in single-family homes take up just as much of the fire department's time.
Moving forward, the select board plans to hand off the ordinance to the Warren Planning Commission, which will revise it before bringing it back to the board for adoption. The ordinance will be broken up into two parts: one for the wood-burning fireplaces and stoves and one for the false alarms.
In closing, "I'm pleasantly surprised on behalf of all the people that I work for that this conversation has gone the way it has," one property manager said.