Waitsfield has been awarded $179,976 for the Waitsfield Village Pocket Park Project. The project consists of final design, engineering and construction of a community pocket park at the town-owned parcel located at 50 Bridge Street. The town purchased the property from the owners of Birke Photography Studio following its destruction from flooding from Tropical Storm Irene in August of 2011.
The Mad River Valley Planning District (MRVPD) worked with the town to pursue funding for the Waitsfield Pocket Park Project as envisioned during Waitsfield's 2013 Vermont Downtown Assistance Team (V-DAT) process.
The goals of the project are to reinforce the economic and flood resilience of the existing village center by increasing accessibility and usability for citizens and visitors, enhancing viewing of the river and bridge and protecting the riparian area from erosion. The 90 percent project funding comes from the state of Vermont's Community Development Block Grant – Disaster Recovery II Grant Program.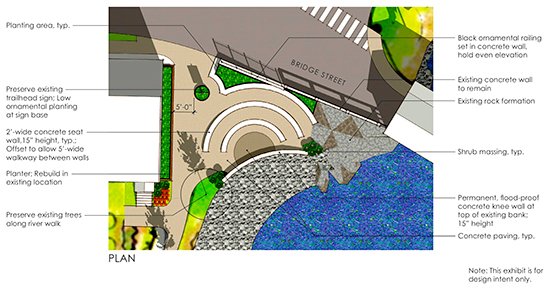 VDAT drawing of Bridge Street park in Waitsfield.
Voters approved the project's 10 percent local match at 2014's Town Meeting (Article 6). The project's conceptual design was developed as a part of Waitsfield's 2013 Vermont Downtown Action Team (V-DAT) planning effort. Project design and engineering is expected to commence in fall 2015, with construction in 2016.
The next steps include submission of the environmental review application and issuance of a grant agreement. The final design process will include community input and additional public hearings.
For more information about this topic, contact MRVPD director Joshua Schwartz at (802) 496-7173 or email at This email address is being protected from spambots. You need JavaScript enabled to view it..
The process that brought Waitsfield the pocket park grant and Warren a streetscape improvement grant, the V-DAT work, has recently received two awards recognizing achievement of outstanding community planning within the state. The project was awarded the 2014 Project of the Year Award by the Vermont Planners Association (VPA) as well as the 2014 Vermont Public Places Award, a program honoring Vermont's public places that recognize special public spaces, the corridors that connect them, or networks of public spaces which have been defined or enriched by planning or design, as well as regulations that promote positive, public uses and benefits.
The MRVPD was created in 1985 by the towns of Fayston, Waitsfield and Warren to "carry out a program of planning for the future of the Mad River Valley. The planning program is to be directed toward the physical, social, economic, fiscal, environmental, cultural and aesthetic well being of the member towns and its inhabitants."