This year, Noah's Fizzy Lemonade is a new vendor at Brooks Field after the Warren Fourth of July parade. Eleven-year-old Noah Schwartz of Waitsfield will be pouring the drinks and he's also the entrepreneur behind the whole operation.
When Schwartz first participated in a kids' farmers' market at the East Warren Schoolhouse four years ago, he wanted to make lemonade but suspected other young vendors would probably have the same idea. "I wanted to do something a little different," Schwartz said, and so he came up with the idea of adding carbonation.
Schwartz used his father's, Joshua Schwartz, kegs from home brewing to add CO2 to the citrusy drink, thus creating his first batch of Noah's Fizzy Lemonade. "I had no idea if it was going to work, so I was just testing it out," Schwartz said. "But people seemed to like it."
Next up, Schwartz sold Noah's Fizzy Lemonade at the 2011 Mad Hatter Ultimate Frisbee Tournament in Warren, where Vermont Music Festival founder Jeff Mack liked the drink so much he invited Schwartz to be a vendor at his event.
At the 2011 Vermont Music Festival, Schwartz sold out of five gallons of Noah's Fizzy Lemonade in a matter of hours, and in 2013 he sold out of 10 gallons. The drink was so popular that in 2014 American Flatbread general manager Clay Westbrook commissioned Swartz to make 50 gallons of Noah's Fizzy Lemonade for the Waitsfield-based pizza restaurant to sell at the Vermont tent at the Big E fair in Springfield, Massachusetts.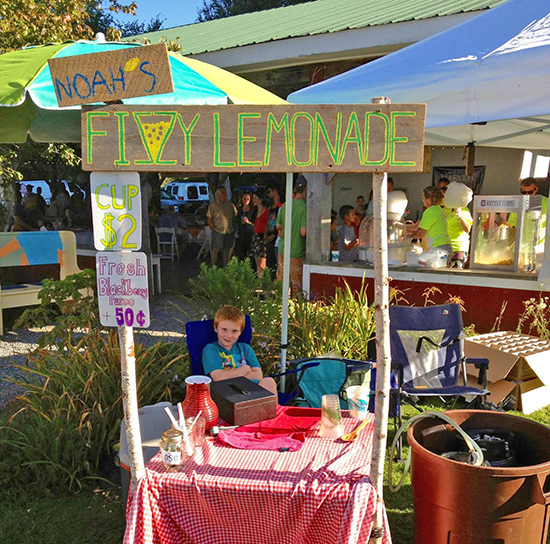 Up until then, Schwartz had been sweetening his lemonade with sugar, but to "make it a little more Vermonty" he switched to maple syrup. Together with his family, he visited longtime tree-tapper Eastman Long at his property in Fayston, where he learned all about making maple syrup and purchased 12 gallons for his next batch.
"We overestimated how much we needed," Schwartz's father said, explaining that before going to the Big-E the family set up on their back porch and tested out dozens of different recipes. Eventually, Schwartz settled on the perfect ratio of lemon to water to maple syrup.
It took 560 lemons to make 50 gallons of Noah's Fizzy Lemonade—"or 1,120 lemon halves"—Schwartz said.
"We had a squeezing party," Schwartz's mother, Elizabeth Schwartz, said of the family's preparation for the Big E. They invited friends over and had nine citrus juicers going at the same time. "I couldn't have breakfast that morning because he had sanitized the whole kitchen," she said of Noah's father.
"I'm the quality control manager," Joshua Schwartz explained.
After the squeezing party, 10 kegs of Noah's Fizzy Lemonade traveled south to Massachusetts with American Flatbread. "They kept them cold by putting like 5,000 frozen pizzas on top of them," Schwartz said. Schwartz and his family traveled down to the Big E one weekend so he could guest pour, "and it was crazy," he said. In the tent, "it was so crowded you could barely walk."
At the end of the fair, American Flatbread had sold nine out of 10 kegs of the carbonated drink, and this year, with the help of the local community, Noah's Fizzy Lemonade continues to grow.
"It takes a village," Schwartz's father said of the many locals who have helped out with his son's business, including Troy Kingsbury, owner of Village Grocery in Waitsfield, who last summer let Schwartz store kegs of Noah's Fizzy Lemonade in the store's cooler and this summer lent him one of the store's citrus juicers. "It was a game changer," Joshua Schwartz said.
Also new this year, Schwartz has been working with Stan Ward of Waitsfield to set up a lot tracking system for his business. Steve Butcher of Warren helped Schwartz launch a Noah's Fizzy Lemonade website, Ryan Dreimiller of Waitsfield helped him design a logo and Matt Sargent of Warren helped him fine-tune his recipe.
"This has been an amazing process in identifying cost and scale," Joshua Schwartz said. "Noah's done a lot of math," he said. Moving forward, Schwartz would like to be able to make even bigger batches of fizzy lemonade that he can sell throughout the year.
"I haven't been brewing," Schwartz's father said of his beer-making hobby, which has been put on hold. "A lot of the equipment is the same," he said.
So far, with the money he's made from his business, Schwartz has donated some to the People's Health and Wellness Clinic, some to local flood recovery efforts, has invested some back in the business by buying equipment and has used the rest to build a rocket launcher in his yard. As to what to do with future profits, "I'm thinking of some cool new projects," he said.
Side note: This year, Schwartz will be joined at the Noah's Fizzy Lemonade Stand on Brooks Field after the Warren Fourth of July parade by his sister, Clara Schwartz, who will be selling brownies.
For more information about Noah's Fizzy Lemonade, visit drinkfizzy.com or like its Facebook page.