Earlier this summer, the Vermont Agency of Natural Resources (ANR) approved Grow Compost of Vermont's request to revoke its solid waste certification, agreeing that because the Route 2 facility feeds all of its food scraps to chickens instead of directly composting them, the certification no longer applies.
Whether Grow Compost's commercial composting enterprise can be considered agricultural is the subject of legal action between the company, the town and the ANR. Grow Compost has also withdrawn its application to renew its Act 250 permit, which expired in December, stating that it no longer engages in any activity that falls within Act 250 jurisdiction and will instead be regulated by the Vermont Agency of Agriculture.
ACTIVELY OPPOSED
The town of Moretown, upon receiving notification of the regulatory changes at the local business, actively opposed them.
In a July 21 letter Moretown's attorney, Richard Saudek, wrote to the state, "a farm used 'primarily for the purpose of' raising crops or livestock may engage in subsidiary composting operations without an Act 250 permit," Saudek wrote, but—as their name implies—that is not Grow Compost's main objective.
In his letter, Saudek calls into question the number of chickens at the Route 2 facility compared to the volume of organic compost that it sells, explaining that in order for it to be exempt from Act 250, Grow Compost's compost would have to be "principally produced from inputs grown or produced on the farm" and "primarily used on the farm where it was produced," according the exemption requirements, and Grow Compost does not claim that they are.
COMMERCIAL ACTIVITY
"Compost is not an agricultural product, nor is the production and sale of compost 'farming,'" Saudek said. The production and sale of compost is a "commercial activity" and thus requires an Act 250 permit for development on more than 10 acres.
On behalf of the town, Saudek asked that Grow Compost's Act 250 permit be renewed.
In his letter, Saudek advocated for the town, explaining that "Moretown does not have the capacity or expertise to address the air and water pollution generated by commercial composting facilities," he wrote.
NO PERMIT AVAILABLE
In withdrawing their application to renew their Act 250 permit, "we are not trying to avoid permits," Grow Compost co-owner Lisa Ransom wrote in an email to The Valley Reporter this week. "We have always complied with every state environmental requirement," she said of the Route 2 facility.
According to Ransom, there is no permit available "for an operation like Grow," she said. "We do not have enough volume of material, and we feed chickens."
With the state's new Universal Recycling Law, which requires that all organic material be diverted from landfills by 2020, composting as means to dispose of food scraps and yard debris is going to become more and more important, and facilities like Grow are leading the way in Vermont.
NO WAY TO MONITOR
The problem is, "the state doesn't really know what to do with composters anymore," Ransom told the Moretown Select Board at a meeting this past July, explaining that as far as she knows the ANR has no way to monitor the growing industry.
The town of Moretown was not immediately notified of the ANR's approval of Grow Compost's request to revoke its solid waste certification earlier this summer. Matt Chapman, ANR attorney, said that under the state's rules there is no requirement to notify adjacent landowners and the town when a certificate is revoked.
Moretown appealed that revocation when the town did receive notice from Ben Gauthier, ANR solid waste management program analyst.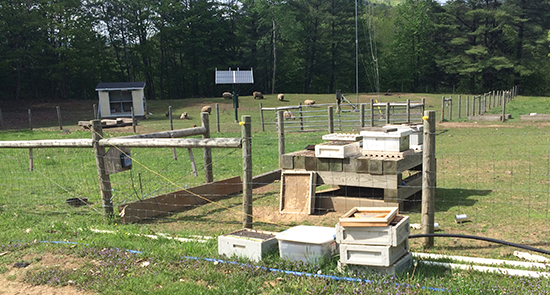 HOW MANY CHICKENS
"I think the immediate policy issue is that if the ANR is going to let go of jurisdiction there needs to be ... some transition," Shems said, explaining that the town is not sure whether it can or wants to be responsible for regulating the Route 2 facility.
"I read the rules that Chapman is referring to differently and that's why we took an appeal. Under this analysis the biggest landfill in the state could ask for revocation and have it granted without the public having any right to know," Shems said.
"When Ben revoked their certification I believe it was understood that they had 500 chickens on the site. Nobody really knows how many chickens are there. There had been odor complaints and notices of violation for ground water issues as well as odor issues. Permittees can't just call up ANR and tell them that they are not a solid waste facility anymore. That is not the way it is supposed to work," Shems said.
As a result of the appeal, Moretown, Grow Compost and the ANR were to start mediation on October 1. That was postponed and the parties are meeting informally today, October 8, with the understanding that any process involving neighbors and the town would have to be public.