Volunteers and soon-to-be dog owners enthusiastically greeted an RV full of dogs at the Middlesex Park and Ride last Saturday, December 12. In it were 16 dogs that had traveled over 1,100 miles from Furever Friends of the South K-9 Rescue in Crossville, Alabama.
Volunteers from the Waitsfield-based For the Love of Dogs/Vermont Dog Rescue were on hand to aid in the dogs' transition to their new homes in the Northeast. Two dogs were being picked up by new owners and one by a foster parent, while10 other dogs were being transferred to All Breed Rescue in Williston. The remaining three dogs were being delivered to new homes in New Hampshire, Connecticut and Maine.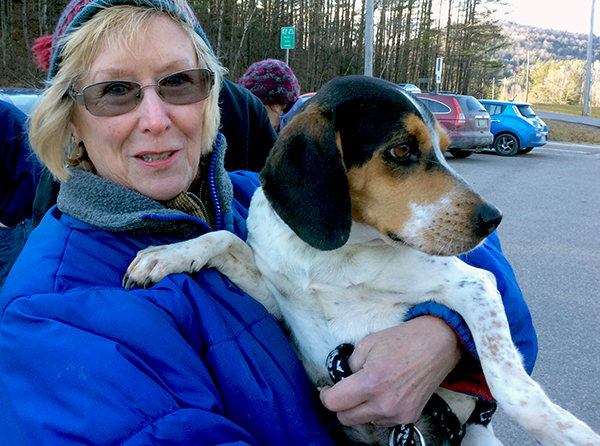 "Don't shop — adopt," said Carole Crossman of For the Love of Dogs/Vermont Dog Rescue. Crossman came to pick up Beatrice, the 2- to 3-year-old beagle mix. Crossman will be fostering Beatrice until a permanent home can be found for her. Crossman was also there to make sure the two adoptions went smoothly.
Volunteers Anne Pfarrer and Dana Goss also helped. Pfarrer was active in getting the dogs situated while Goss emailed and updated people about the progress of the transfer. Crossman explained that Carole Moore of For the Love of Dogs/Vermont Dog Rescue was instrumental in orchestrating the transfer together with their partners in the South. This involved arranging vet certifications, shots, spaying/neutering, heartworm checks and travel logistics.
"It's a group effort and everyone has their part, their talent," said Crossman.
For the Love of Dogs/Vermont Dog Rescue and All Breed Rescue save dogs from "high-kill" shelters by placing them in homes throughout the Northeast.
Many of the dogs the organizations rescue come from shelters in the South where there are no spay/neuter laws and dog overpopulation is a critical problem. Although the two organizations have the same goal they operate differently. For the Love of Dogs/Vermont Dog Rescue is a relatively new, shelterless rescue organization that relies on volunteers to foster and place dogs. Through their network of volunteers, they rescue approximately 100 dogs a year. All Breeds Rescue is a shelter that has rescued over 6,000 dogs since its inception in 1996.
Jamie Harris met her dog Casper for the first time on Saturday. She had found out about For the Love of Dogs/Vermont Dog Rescue through the Front Porch Forum website. Harris applied to adopt Casper only to discover that Casper had already been adopted in Alabama. Harris was disappointed but then noticed Casper was back on the website a week later. The adoption in Alabama had fallen through. Harris then quickly resumed the adoption process.
Kesia LaBreck and Nate Spear of Lebanon, New Hampshire, adopted Rookie on Saturday. LaBreck had fallen in love with a dog she had seen by chance in a pet shop but thought adoption was a better option. She started searching the Internet for adoptable dogs in the area, when she came across Rookie's picture and decided to adopt him. "I was speechless when Rookie first stepped out of the RV," said LaBreck, adding that "he looked even cuter in person."
Further information about adopting, volunteering or donating can be found on the organizations' websites: www.vermontdogrescue.com and www.allbreedrescuevt.com.