On December 19, 10 members of the Mad River Community Solar Farm (MRCSF) met developer Nils Behn, CEO of Aegis Renewable Energy, Waitsfield, and walked the site of their nearly completed solar array in Waitsfield.
The members trekked to the muddy construction site northwest of the Big Picture parking lot to see the progress and to learn exactly how the energy from the sun hitting the photovoltaic panels they own will be transformed to electricity to power their homes and businesses. It is expected that the solar farm will be connected to Green Mountain Power Company's electric grid on December 28, give or take a day or two, but definitely before the end of the year, allowing the members to realize a major federal tax credit on their 2015 income taxes.
The 150 kW array will help to meet the electric needs of 23 families and businesses, most of whom live or work in The Valley. The members, all GMP customers, are owner-managers who have agreed to a somewhat new form of Vermont Domestic Limited Liability Company. The MRCSF operating agreement was customized to meet the needs of the members during a number of lengthy meetings and discussions.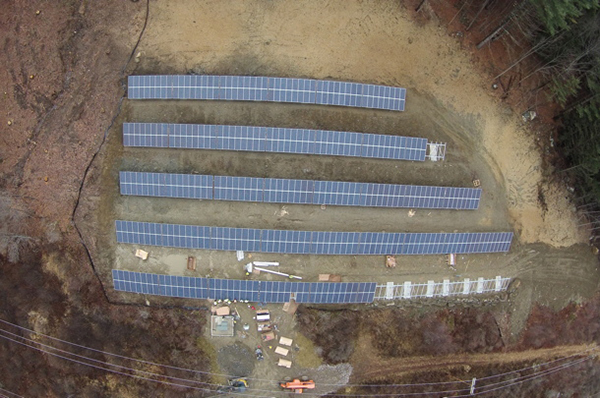 Voting on issues related to the operation of the solar farm is based on one member, one vote. Couples, partners or businesses each constitute one member. The members have entrusted the day-to-day management of the company to an elected executive committee consisting of president, secretary, treasurer and two at-large members. Currently, nominations are in and votes are being counted. The new officers will be announced next week at the commissioning ceremony when the connection will be made to the grid.
Of the 616 total panels in the array, there are 19 panels yet to be sold. Those panels will generate nearly 6 kW of power – enough to handle the needs of an energy-wise average household. The cost per watt for the MRCSF is $2.87, which gives members ownership of their panels and a share in the company that owns the facility's infrastructure. Annual operating costs are divided among the members based on the percentage of the total array that they own. Questions about joining may be directed to Samantha Mashler, project manager at Aegis, 496-5155.