Bernie Sanders took home the title Embodiment of all Independents and Prickly Mountain's "Under the Sea" was given Best in Show at this year's Fourth of July parade.
Locals and tourists started to file into The Warren Store starting at 7:30 a.m. on July 4 in hopes of getting a front-row seat for one of the best parades in the state. This year did not disappoint, with all of the satirical political floats one could ask for, a float on fire and, of course, presidential candidate Bernie Sanders.
The parade was slated to start at 10 a.m., but the streets were filled long before that. Rumors could be heard of Sanders showing up, which he has done frequently in the past, but given his new role in this year's political theater, seeing him gave the crowd more excitement.
Just before the floats started rolling through Main Street, a wave of cheers broke out and Sanders emerged from around the corner waving and shaking hands down both sides of the street. Secret Service members had to hold pedestrians back from the senator, but that didn't stop people from shaking his hand, hugging him and snapping selfies and pics.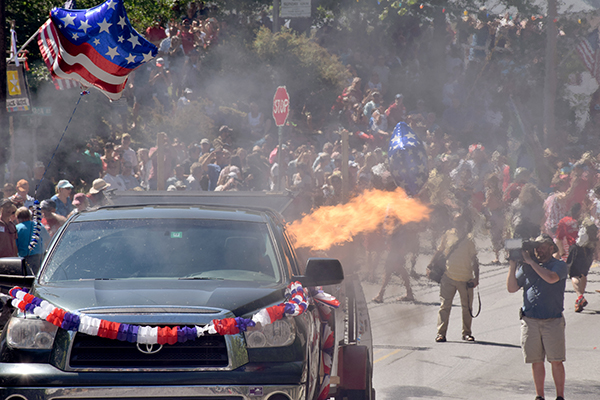 The floats, some even bearing his name and face, followed Sanders. One float, however, caused a stir that Sanders couldn't match. Local band Peace in the Valley had been playing music on a trailer bed being pulled by parade marshal Troy Kingsbury's truck, when the generator powering their instruments caught on fire and rapidly grew.
Crowds were dispersed around the truck, both trying to stay at a safe distance and also making sure they could see the spectacle. A few spectators and shopkeepers ran out of the crowds and stores wielding small fire extinguishers aiming them into the windows that the flame was now jettisoned out of.
"The power cut out and we didn't really know what was happening," Benjamin Burr, the band's bassist, said, "We had to sing a cappella for a little bit." The band had been playing "Shakedown Street" by the Grateful Dead when the fire started.
The band was held back away from the truck while the fire was put out. "The Warren Fire Department did a great job," Burr said. Luckily, their equipment was not damaged, just covered in dust and ash from the fire.
The commotion did not last long, the truck started to move again and the crowd erupted in cheers. "I guess you could say we were feeling the Bern," one band member said, as he now walked alongside the truck. The float was given the Hottest Young Band award at the end of the day.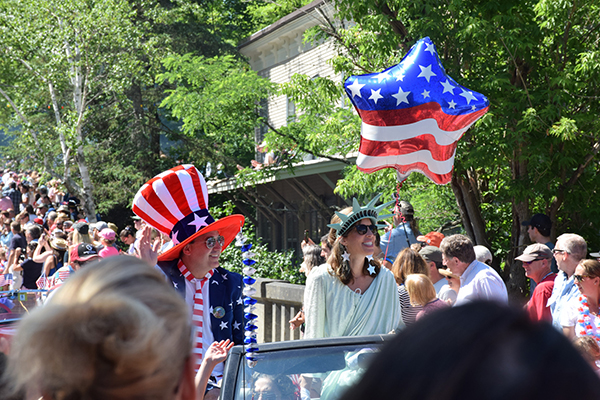 The Warren Store and The Pitcher Inn serve as the epicenter of the parade, gathering the largest crowds and transforming into a community dance party when the last float goes through, with music by the Dave Grippo Funk Band playing on the porch of the store.
The store and connected bakery employees were up at 3 a.m. to prepare for the day's festivities. They had to have their 300 croissants, 150 muffins and 70 cinnamon roles ready to go before anyone even showed up, Crystal, an employee of The Warren Store, said.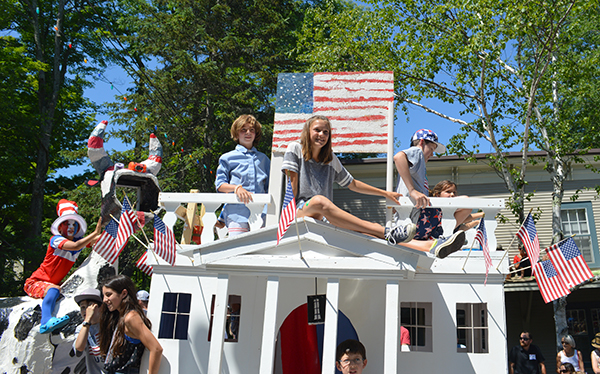 Spectators purchase "buddy badge" stickers bearing four-digit numbers that have a twin sold to someone else in the crowd. Children and adults alike run around Main Street shouting their numbers in hopes of being a beacon for their counterpart.
There are prizes at stake for those who find their partner early enough. The prizes vary in value, from a pass to either Sugarbush or Mad River Glen to pizza slice vouchers at American Flatbread.
In total the prizes are valued at about $5,360.
Many more floats were given awards. The complete list is as follows:
• Best in Show (and Most Inclusive): Prickly Mountain's "Under the Sea"
• Best in Theme: Mad River Valley Seniors' "Being Independent"
• The New "Hap": Troy Kingsbury – Grand Marshal for Life?
• Embodiment of All Independents: Bernie Sanders
• Best Commercial: Sugarbush's "Keep Calm and Snow On"
• Most Resilient: Mad River Glen
• Best Message: Harwood Union's Queer-Straight Alliance
• Hottest Young Band: Peace in the Valley
• Most Entertaining: Vermont's Independent Values Fuel our Valley
• Best Kids: Knoll Farm's "Wild & Incredible Kids"
• Best Musical: Vermont Music Fest
• Best Bernie Supporter: Temple of Dindor
• Best Ditch Rescuer: Hap's Service Station
• Best One-Person Float: Tim Seniff's "Garbage in, Garbage Out"
• Longest Trail System: Mad River Ridge Runners (snowmobilers)
• Political Awards:
– Healthiest Bribe: David Zuckerman
– Most Support without Being Present: Sue Minter
– Loudest Presence: Phil Scott
– Cuddliest: Ann Cummings
– First-Timer: Ashley Hill
• Most Elegant: Bob and Louise Messner's 1950 MGTD
• Best Family: John and Judy Phelon's 1947 Chevrolet Thiftmaster – Old Glory
• Best Antique Participant and Military Vehicle: Dana Haskin in his 1968 Jeep
• Best Antique Truck: Fred Viens' 1929 Model A
• Best Antique Farm Vehicle: Ward Joslin's 1935 Case Model C
• Oldest Fire Truck: Warren's 1947 Pumper
• Best Birthday Wish for Grandpa Rick Worrell
This marks the 68th year that Warren has held a parade. Two parade spectators said that the festival was one of Vermont's wildest celebrations during the 1980s when the town would temporarily lift the open container law. It has changed for the better, The Warren Store manager Jack said; it is much more family-friendly and still a great time.