Running through a slalom course while being pelted with foam balls or navigating an obstacle course wearing Saran-wrapped goggles are just some of the challenges that Doug Lewis has been putting his campers through since 1991.
This year will mark Lewis' 25th year running Eliteam summer ski camps. Lewis started Eliteam with co-founder Kraig Sourbeer. They ran one camp with 18 kids. Now they run six camps in two locations – Waitsfield and Park City, Utah. They have 275 kids come from all over the country to learn invaluable skills for young athletes.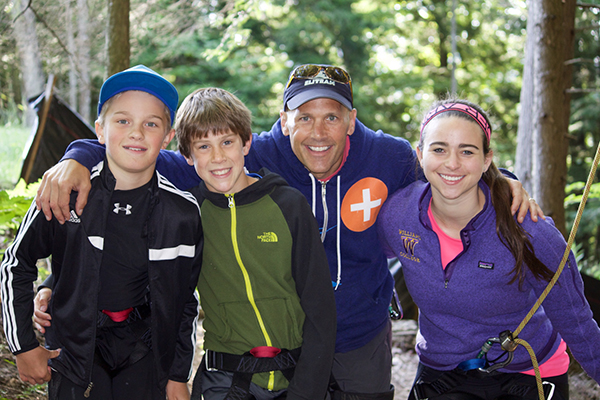 The camps fill up immediately Lewis said; he has been incredibly lucky that the camp has been so popular with only word-of-mouth marketing. Around 80 percent of the campers are skiers, he said, but he welcomes all types of athletes, noting that he has worked with lacrosse players, golfers and soccer players.
The Philosophy
Sports psychology, physiology and nutrition comprise the three pillars of the Eliteam philosophy. These ideas are applicable to all young athletes. Although he may have to tailor nutrition and physiology for a skier differently than a golfer, the concepts are equally important to each camper.
The mental training that is taught at Eliteam is helpful in all aspects of life. Teamwork is just one part of this pillar. "The more activities that we can have the kids do working together, the better," he said.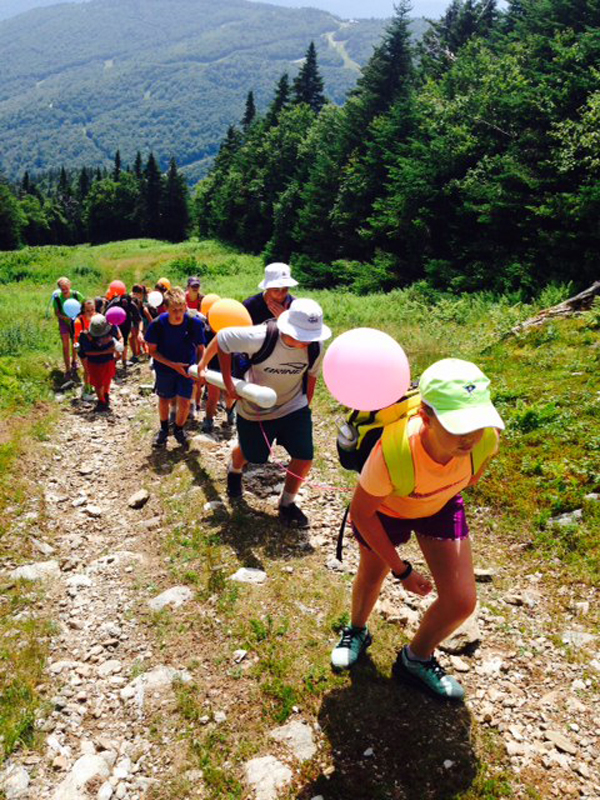 The Eliteam woods are comprised of a series of obstacles and challenges that push kids to their mental limits. They are both on the ground and high up in the trees. Lewis builds them himself and gives them names like "the dangle doodle" and "the tango."
This part of the camp is about making sure kids are prepared to take on frightening or daunting obstacles when they reach them; that way they are confident in their abilities and their approach.
Campers spend a lot of time in the Eliteam woods and Lewis is constantly making changes from year to year. It not only keeps it interesting for returning campers, which there are plenty of, but for counselors as well.
Outside of the woods, kids are always active. "There is never any downtime at Eliteam. If there is downtime, the kids are doing something, whether it is practicing the slalom course or the berganthal," Lewis said.
The Routine
A day in the life of campers begins with a morning run at about 7:30, followed by the morning session. The campers will be split into groups with one group going to the woods to work on sports psychology and the other to the gym to work on physiology.
The morning session brings them to an 11:30 lunch followed by a notebook meeting, where campers continually assess their progress and track their goals. The afternoon session is from 1:30 to 4:30 and can involve cooking, an obstacle course or practice for the annual Eliteam dance, to be performed for the parents at the camp's end.
Starting in 2014, Lewis expanded the camp to Park City, Utah. It is a different feel for Eliteam, he said, but it is still focused on the same three aspects and the learning material will never change.
Campers in Park City are able to train at the Center of Excellence, alongside United States Ski Team members and Olympians. They have even had Mikeala Shiffrin, Olympic gold medalist and Eliteam alumnus, give talks to the kids in the past.
There are also "classics" that will follow Eliteam forever, like the slalom course and the berganthal, both highly tactical obstacles that work on agility. Paired with these classics, the staff creates a new element each year.
The Staff
Alongside Doug for the past 25 years has been his wife, Kelley. Also a former World Cup skier, she has been with Eliteam since the beginning. Together they create a duo of energy that fuels the world-class camp.
The staff, Lewis says, is about 90 percent Eliteam alumni. Lewis loves for campers to come back and improve the lives of new campers, and those who have not been to Eliteam and want to join the staff must prove that they have the right mentality.
Lewis, an Olympian, is never done setting goals for himself. He has recently finished his first 50-mile running race in Monument Valley and he has set a new goal for the Wasatch 100-mile race in 2017.
The mental skills, goal setting and perseverance that are first taught to campers at Eliteam will stay with them for the rest of their lives. Once an Eliteamer, always an Eliteamer, Lewis said.
The graduates of the first Eliteam class are 40 years old now. And just last year Eliteam had its first legacy camper, the son of a former camper. Lewis does not plan to move on from Eliteam for some time, he said; it is the perfect lifestyle for him.