Spreading out over three different vineyards -- Mad River Vineyard, Mad Meadows Vineyard and Roth Vineyard, all located on East Warren Road -- there are 10,000 grape vines in the Mad River Valley, ripening for the 2018 harvest.
"It's a growing activity; keep in mind we started this a year ago," said Joe Klimek, as he overlooked Mad River Vineyard in Waitsfield. Klimek is a wine-growing expert and overseer to multiple vineyards in the Mad River Valley. "We are now capable of growing grapes in Vermont; we weren't able to grow them 15 years ago. The University of Minnesota helped hybridize vines to withstand temperatures in the negatives."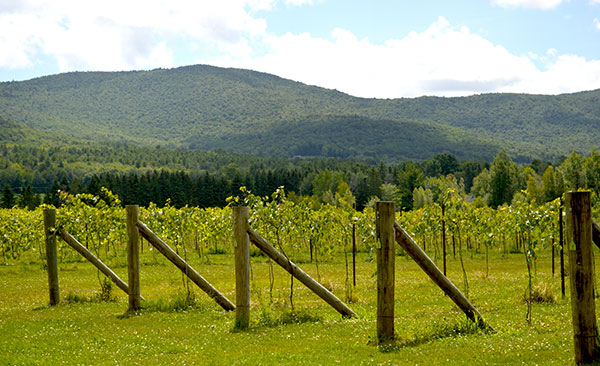 Klimek explained how a vineyard is planned in subdivisions called blocks. The number of blocks a vineyard has depends on its size and how many types of grapes the owner wants in their vineyard. At Mad River Vineyard there are different blocks as well as different styles of fencing that allows the variation of the vines to grow accordingly. One block of 650 vines can produce about 1,500 pounds of grapes in a harvesting season, Klimek estimated.
"A high cordon technique" is what Klimek used on one variation of grape in that vineyard, that requires one wire to hold up the grapes. It helps to train the grapes, which start out at a foot tall, to grow vertically. Planting season is typically in May, Klimek explained, and it can take two years for the vine to get to the top wire and three to five years for it to start producing grapes for harvesting.
SECOND CAREER
Vines need a good angle to receive enough sunlight to grow. To reach full maturity they need 2,600 "degree days" Klimek said. A degree day is a day when the temperature is above 52 degrees. The soil and sunlight on East Warren Road suits the vineyard growth and life by having healthy, deep topsoil that is soft for the roots to penetrate, making it the "ideal location" said Klimek, a retired NASA scientist whose own interest in grapes and winemaking led to his second career.
At Mad River Vineyard, Klimek showed examples of two different growing techniques: the first with one wire that allow the vines to climb and stay vertical; the second way of holding the vines up is a method with four wires, two low and two high. This is due to a different kind of vine that first grows outward – horizontally -- before climbing vertically. The team has to tuck the vines in the wire to keep them upright.
"It's a game of patience," said Klimek, as he explained the different grape clusters dangling in the rows. "This is Petite Pearl, a red wine and a good grape for blending with other wines," said Klimek. Other grapes he showcased included Marquette (red), Frontenac (both red and white), Brianna (white) and the Petite Pearl.
OTHER WAYS GRAPES DIFFER
As he continued to drive around the perimeter of Roth Vineyard in Warren, the oldest in The Valley, Klimek discussed the other ways grapes can differentiate. There are low, medium and high acidity levels in grapes; Petite Pearl for example takes a low acid grape to produce. While measuring acidity, the harvesters also take into account a grape's coloring.
"Veraison is the natural ripening and conversion of color when sugar levels increase. When that happens, grapes turn purple or darker during their cycle," said Klimek. He explained how his crew uses a device that can measure the sugar levels with the grape's juices.
Vermont is well known for its fickle weather patterns as well as its pesky friends that visit community gardens such as the Japanese beetle.
"We spray for the beetles; they'll eat the leaves that are highest on the vine. That's fine because that opens the top of the vine which helps them get more sun. They provide some benefit for a little while," said Klimek.
Roth Vineyard has been in business for 10 years and produces mainly grapes for white wine, with about 1,500 vines. "It's doing well," said Klimek as he talked about the pruning process that he and his crew maintains in the summer months.
"The season is typically from April to November, and then we see major activity and pruning in the late fall. The big issue is cleanliness; there can be issues with fungal growth, so we spray routinely. After harvest and the leaves on the vine dry up, the vines have to be pruned back and we collect all the cuttings and burn them," said Klimek. The crew also removes excess growth and fertilizes the vines in the spring. Klimek estimated that 2 percent of the vines each year have to be replanted.
FOURTH YEAR
The last vineyard Klimek showcased was the privately owned Mad Meadows Vineyard, Warren, owned by two families from New Jersey, the Foley and Fegley families. Klimek designed and planted this vineyard with his crew. Klimek mentioned that some of the blocks were planted with machines so the rows and vines are perfectly straight and placed lengthwise apart. This vineyard is six blocks of six different wines. The vineyard is in its fourth year with 6,500 vines, which at full maturity can produce 25 tons of grapes?
Mad Meadows also grows the Petite Pearl varietal as well as Frontenac, Marquette and Brianna, the white grape wine that is very sweet.
After the growing period and harvest time comes, the crew assembles large tubs that are 3 feet deep by 5 feet wide and can hold 1,000 pounds of grapes. Some consumers who want the grapes come to the vineyard, Klimek mentioned, and specify what grape they want to buy.
"That's what's happening in The Valley as far as grapes are concerned," said Klimek, as he parked his Ford Ranger in front of the vineyard on East Warren Road overlooking the mountains.
When asked, "Why wine?" Klimek responded, "Why wine? Why not?"