A senior housing project slated for Airport Road in Waitsfield has cleared its first local permitting hurdle.
On August 10, the Waitsfield Development Review Board approved preliminary sketch plan review for the project. TJ Kingsbury of Mavis LLC is proposing to build 42 one- and two-bedroom senior housing units on the north and south side of Airport Road.
The development review board (DRB) held a preliminary sketch plan review with developer T.J. Kingsbury of Mavis LLC on June 26 and July 10 before issuing the decision with specific recommendations.
Within six months, Kingsbury will need to submit applications for the next phase of permitting, preliminary review. After that the project goes to final review.
Kingsbury has 28 acres on the south side of Airport Road in the agricultural/residential district and another 5-acre parcel on the north side of Airport Road in the industrial commercial district near Mad River Park.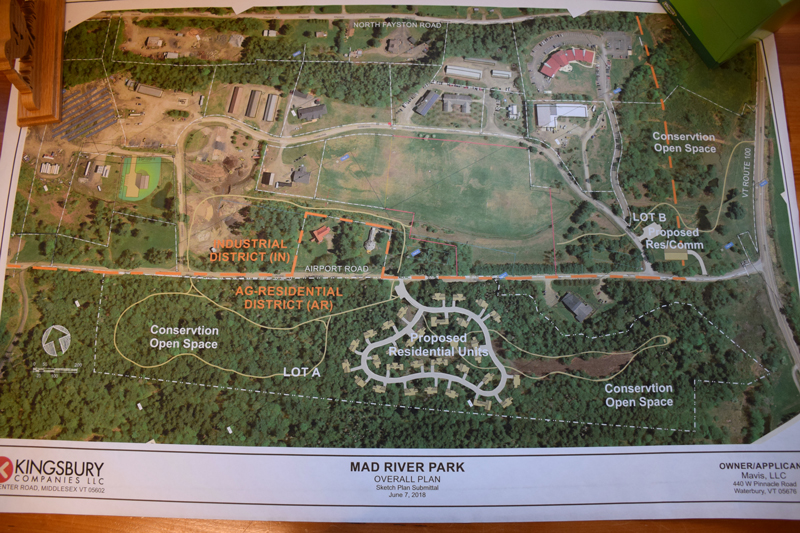 He is planning to construct 26 single-family units and four duplexes on the larger parcel, along with open space, recreational facilities and walking trails. A community building, eight apartments, common and medical services spaces as well as further open space and walking trails are proposed for the smaller parcel.
The smaller parcel, Lot B includes open/conversation lands and walking trails connecting Mad River Park to Route 100 and eventually to the Mad River Path Network.
The DRB's conditions for sketch plan review call for Kingsbury to apply for permits for two distinct Planned Residential Developments, one on the southern lot and the other on the northern lot.
The DRB asked that the next round of applications include a revised site plan that shows the land contours as well as details road configuration and public spaces in relationship to dwellings and community buildings. The board also asked for a stormwater management plan plus building elevations and phases of construction.
Construction is expected to begin in the spring of 2019 with full occupation anticipated by 2024.
A previous permit for the housing on the larger parcel was issued 12 years ago and a septic system has already been installed on that land.