It was snowy and it was blowy, but about 20 volunteers showed up last weekend to help restore native forest conditions at Waitsfield's Austin flood plain parcel near the Lareau swim hole on Route 100. The October 27 event was the first Community Stewardship Day for volunteers to be involved in management of the property.
"We're excited with this important headway in our efforts to knock back the onslaught of invasive plants on the Austin Parcel and to jumpstart the re-establishment of a native flood plain forest," said Phil Huffman, chair of the Waitsfield Conservation Commission. "We're grateful to our partners and the community volunteers who persevered through chilly conditions to get so many native shrubs and seedlings in the ground before winter sets in for real. And we hope more folks from around The Valley will lean in to help out as the effort continues next year."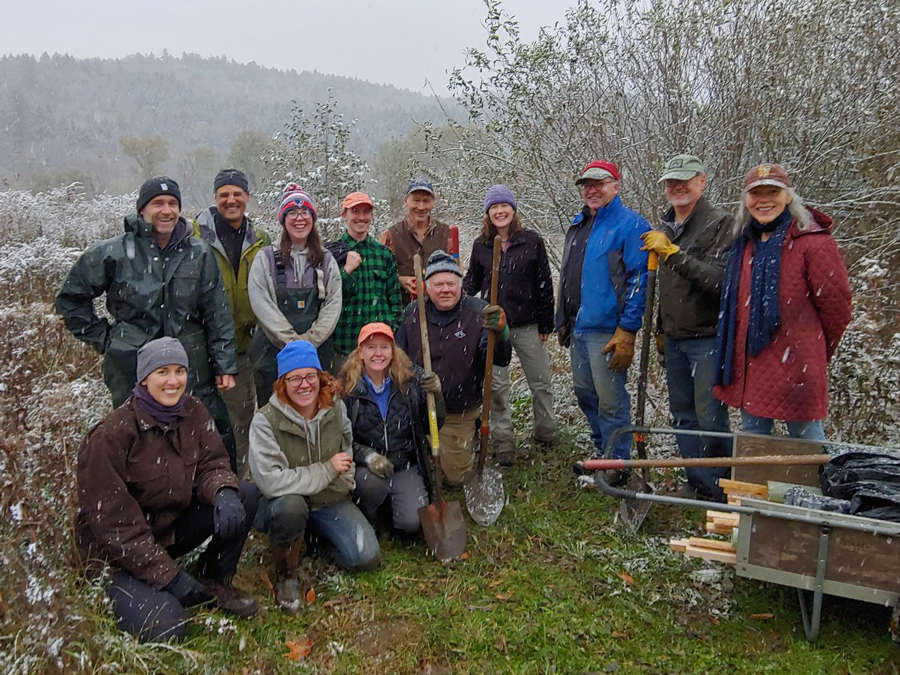 The commission is implementing recommendations for flood plain forest management and restoration that were part of the 2015 Wu Ledges Town Forest Management Plan, which was augmented by studies and reports from the Vermont Land Trust and the U.S. Fish and Wildlife Service. Earlier this year the commission contracted with Intervale Conservation Nursery (ICN) to lead restoration planting and invasive plant removal and control without chemical treatments. ICN's Mike Ingalls and Mandy St. Hilaire helped lead the work on Saturday, bringing 200 trees and shrubs, dozens of tools, and an educational mindset to show volunteers how to do the work.
Restoring native habitat will encourage native wildlife (including birds, pollinators and small mammals that use the area), improve flood resilience, and help create better fish habitat and recreation opportunities along the Mill Brook and the Mad River.
Friends of the Mad River has worked with its local partners and ICN to share information about the Austin Parcel's restoration with the community.
"Twenty hearty people came out on a cold, wet morning with snow falling and in the forecast to help steward the town-owned parcel toward a functioning flood plain forest. It was great fun and great camaraderie," said Corrie Miller, executive director of Friends of the Mad River. Friends of the Mad River's Riparian Buffer Fund and U.S. Fish and Wildlife Service's Partners for Fish and Wildlife program contributed the tree and shrub seedlings to the project.
The volunteers also got a chance to look at the knotweed management conducted by the Mad River Path Association as a subcontractor to ICN this summer. The Mad River Path Association will also manage the knotweed infestation in 2019. "Our goal is to create a buffer strip around the core reforestation area that can also be used as a nice loop trail for Valley residents and visitors," according to path board president Laura Brines.
Maintaining a mowed strip around the core reforestation area was a strong recommendation of experts to prevent even more knotweed infestation of the forest. Path Association trail manager David Hodgson said, "It's a vigorous, aggressive infestation of knotweed, but by late summer it was really evident that we were starting to have the upper hand. It will take a measure of weed-whacking for years to come." Path board member Rocky Bleier is also interested to work with scythers to cut down knotweed without a mechanical weed-whacker, using just human energy.
ICN has also removed large amounts of woody invasives such as buckthorn, invasive honeysuckle and other species that have been established on the site. Next year's project will include more planting, removal of more woody invasives and the continued knotweed management program.