A mighty winter storm toppled trees and brought down power lines throughout The Valley from November 27 into the evening of November 28. The wet, heavy snow and falling trees meant power was off for thousands of people and once it was restored power was lost again while school kids enjoyed a snow day.
According to Green Mountain Power's outage map, people without power in Warren ranged from some 500 in the morning to just less than 300 midmorning. That number went back up to 660 by midafternoon and by the end of the day on Tuesday that number stood at over 1,000.
People throughout The Valley, customers of Green Mountain Power and Washington Electric Co-op continue to lose and regain power as The Valley Reporter goes to press on November 28.
Sugarbush was without power at Lincoln Peak and all of German Flats Road in Warren and Fayston were without power as were all the homes around Mount Ellen. Pockets of outages were scattered throughout Waitsfield with Brook Road, Common Road and East Warren Road heavily impacted.
At Sugarbush, a tree hit the resort's transformer near Snow Creek, which knocked out power to a lot of the base area as well as the two lifts the resort was running.
"This happened a little after 2 p.m., at which point we cleared the lifts on our backup power, so nobody had to be evacuated. Lift operations were shut down for the remainder of the day, though Castlerock Pub stayed open for drinks even though they had no power. Power was restored Tuesday evening," said John Bleh, Sugarbush public relations manager.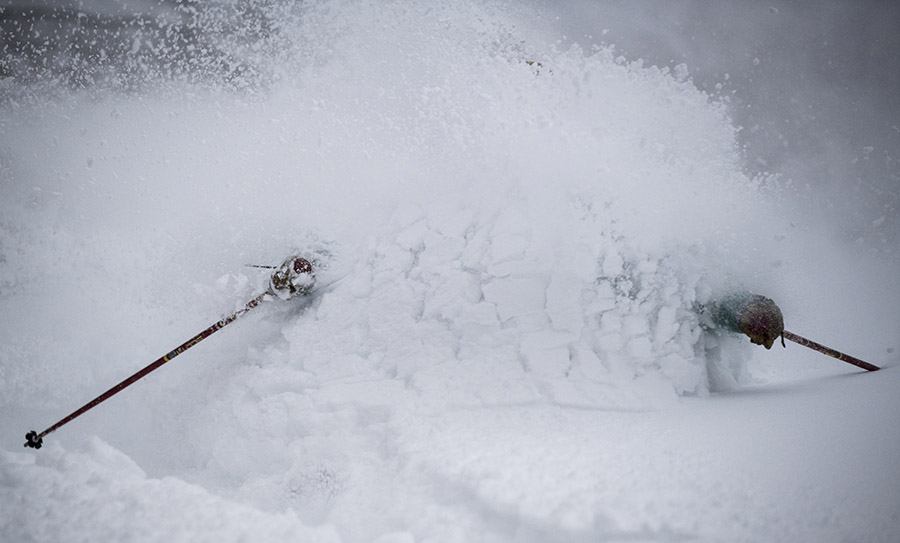 STORM WELCOMED
While the storm wreaked havoc on the infrastructure, it was welcome at Sugarbush and Mad River Glen. Sugarbush skiers enjoyed the snow until the power went out and lifts were evacuated via auxiliary power. Mad River Glen reopened after closing on Sunday and plans to stay open now.
Mad River Glen, after opening for Thanksgiving weekend, closed after Sunday, November 25, to allow the base to settle and drain. Mad River Glen also asked skiers not to skin up the mountain for the foreseeable future as well.
Mad River Glen's early opening was rare, only the second time marketing director Eric Friedman can recall in his 24 years on the job.
"We had a great vibe for opening weekend when we opened up the Single Chair. We processed a whole bunch of passes for people. We were able to process a lot of passes. It's really valuable to get people through the system. It was really remarkable how quickly we were running on all four cylinders. We were giving lessons, renting equipment to first-timers and selling tickets at window prices," Friedman said.
Mad River Glen announced via social media late Saturday, November 24, that skiing on Sunday would be free for those who purchased tickets or Mad Cards on Saturday, and although it was raining down below, the upper third of the mountain received snow and those who did show up enjoyed mid-station laps in the new snow.
"Early opening is important to us; it's good momentum and it really spurs our Mad Card sales," Friedman said.