"You can't have good beer without good water," said Brett Seymour, one of the co-owners and head brewer for the new brewery in The Valley.
Valley Reporter staff members were invited to view the new grounds of the Collaborative Brewing Company behind Clear Water Filtration at Mad River Park, Waitsfield, to see the beer-making facility and test the product.
Collaborative Brewing Co. was started by four friends who all live locally in the Mad River Valley, two of whom are siblings. Partners Craig Isvak, Steve Parker, Jen Fleckenstein and Brett Seymour were interested in brewing beer. Previously Seymour had won a beer-making competition, Make the Cut homebrew contest, in 2015 for his schwarzbier, a darker German-style beer. The contest was put on by 14th Star Brewing Company.
Seymour, Fleckenstein and Parker all grew up together and got on the school bus at the same stop. Parker and Seymour also graduated from Champlain College together. Fleckenstein and Parker are siblings and co-owners of Clear Water Filtration.
"After college, I realized my passion was with making beer," said Seymour, who after graduation started canning beer before making his way up the chain to become a brewmaster at Otter Creek Brewing in Middlebury.
Seymour and Fleckenstein gave a tour of their facility, from the beer kettle and chiller, to the waste tank. Seymour explained how some solid components from fermentation will be given to Kenyon's farm, while the rest will be brought to the wastewater facility in Montpelier.
Western and Sampson did the interior design work for the brewing company. Through a small business loan and all four co-owners chipping in, the partners were able to build a brewing room and purchase the necessary tanks for the process.
Full Swing
When the operation hits full brewing, they will brew between 7 and 14 BBL a week. A single barrel is roughly 31 gallons. When distributing, Seymour said that they will be selling products in kegs and cans. They will have a mobile canning line come in and set up in the middle of the brewing room. They expect to deliver their product to local stores by late March.
When asked about expansion in the future, Fleckenstein said that they can't expand in the current location due to zoning restrictions.
"If we were going to do more work and more brewing, we would have to get into a bigger facility if we wanted to increase the size, but the business plan goal is to have a tasting room at some point." Seymour added that the partnership would love to keep the tasting room and the brewery in The Valley in the future if they were to expand or move location.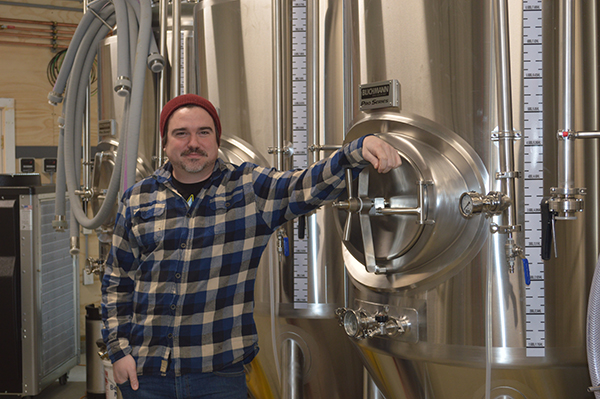 Taste and Design
When asked if they knew what their labels would look like, Seymour said they are working on the label with their designer right now. The brewery just recently established their logo.
Seymour described the different varieties of beer they would be distributing, such as a porter. "It's all about striking a balance. A lot of times people have a dark beer and it's a really strong or harsh roasty flavor that might be off-putting to people. I try to strike a balance between the roast and chocolate to keep you wanting to drink more," said Seymour.
Collaborative's shwartzbier is a black lager that looks heavy but is actually light and under 5 percent alcohol content. Collaborative's American rye, at 4.5 percent alcohol, was light and flavorful.
Seymour said that the brewery won't be brewing IPA beers and will be producing a porter, the black lager, and a high-alcohol pilsner and in the spring and summer months they look to distribute an American rye ale with a 4 percent alcohol content.
Distribution
In the near future the brewing company will be self-distributing around the area and will be selling various-size cans. The schwartzbier will be in a 16-ounce can in a four-pack, while the American rye will be sold in a six-pack of 12-ounce cans. "It's nice to have a short can in the summer so the bottom half of your can isn't warm," said Seymour.
Grains for the operation come from a company called Brewer Supply Group and some from Country Malt Group.