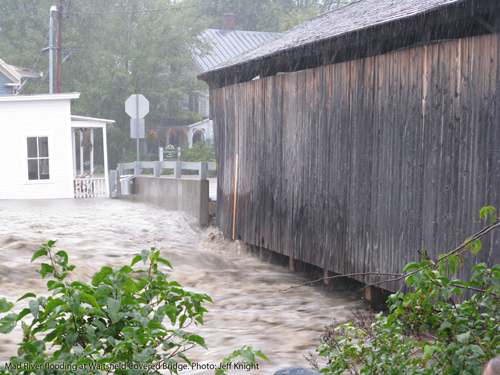 Warren covered bridge to open soon
Warren's covered bridge could be open in the next two weeks following inspection by a state engineer. The engineer determined, according to Town Administrator Cindi Hartshorn-Jones, that the bridge didn't sustain any damage, but the western abutment needs to be filled in before it can be re-opened.
While the covered bridge isn't the highest priority project for the town, officials expect the bridge to re-open to traffic in the next two to three weeks.
According to Waitsfield Town Administrator Valerie Capels, town officials are awaiting a cost proposal for the next level of engineering and design necessary to develop a repair plan for the covered bridge that can be put out to bid for construction.
Evan Detrick from Dubois & King, who has been the lead engineer working with the town on the rehabilitation project before the flood and who did the preliminary evaluation after the flood, estimated this process could take at least two months.  
The covered bridge will need to remain closed. In addition to injuries to the bridge itself, floodwaters created hazards in the roadway and supporting structures.
At Monday's meeting, September 12, select board members recognized the need to let people know that Bridge Street businesses are open and agreed to reconfigure the "Road Closed" signage so that the road will be closed in the village only beyond the Green Cup driveway.
They are also in the process of obtaining better signage along Route 100 to alert motorists sooner of the bridge closure and of detour routes. 
{loadnavigation}