Vermont State Police Trooper Crista Maurice exited her police cruiser in Middlesex in a severely pressed uniform, slicked tight hair, highly polished shoes, her waist circled by weapons and other implements of police work.
Her K9 partner, Cole, loped out of the car with the typical enthusiasm of any dog meeting a new person and sniffing around for the right spot to pee. Cole is a 6 ½-year- old full-blooded German shepherd who is all black except for a patch of white on his chest. He's friendly and engaged, but very specifically focused on Maurice's words, movements and actions.
She escorted us into the barracks to an interview room where Cole alternated between accepting head rubs and lying on the cool floor on his belly while his handler answered questions about VSP K9 program.
Maurice has been his handler for six years. He was 1-1/2 years old when she got him. He had been surrendered by his original family because he was too much for them to handle.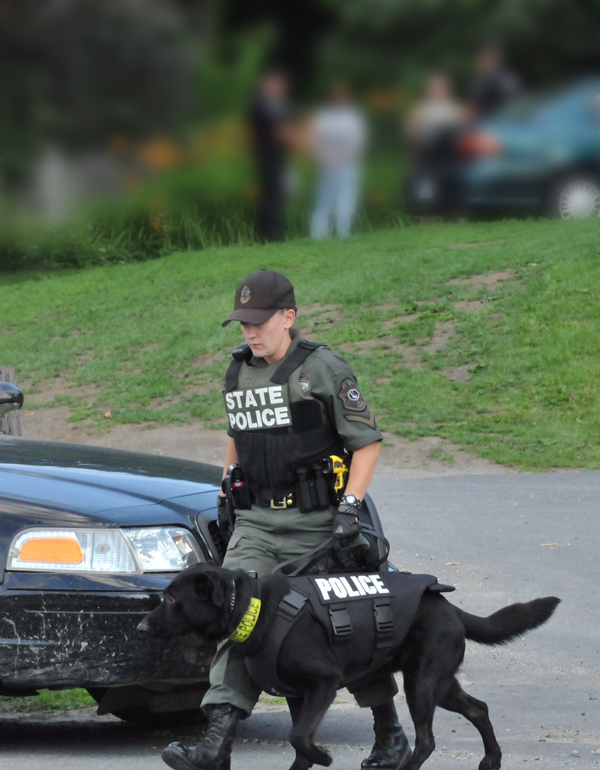 Prior to getting and training Cole, Maurice had to sit for an oral interview to determine her eligibility to have a K9 partner. Once approved she began the training program for police dogs. Training is rigorous and includes three months of Monday through Friday training, a six-week drug class, four weeks by twice weekly patrol class and 16 hours of ongoing monthly training. Training covers obedience, tracking, evidence recovery and apprehension.
"I always wanted to have a K9," Maurice said. She's been with the Vermont State Police for 10 years and was with the Saint Johnsbury Police Department for six years prior to that.
"It's pretty incredible what you can do in terms of finding missing persons or people who've run away from a crash," she said.
Asked what it was like to have her best friend be her law enforcement partner, she let down her guard a bit and acknowledged that it was pretty amazing, but also scary, to have to send her dog into dangerous situations.
"If I have to send him into dangerous situations to save someone's life I'd have to do it. But that's my job, and it's his," she said, before reaching over and scratching his head and asking him, "Who's a good boy?"
He is trained to apprehend and to search and when he's searching Maurice has him on a 15-foot lead and walks or jogs slowly behind him. He's trained to sit and bark when he finds what he's looking for and then he gets rewarded with his toy which is made from a piece of hose, the only toy he doesn't destroy.
"When he's off duty, he's just my dog," Maurice said, giving him more scratches and asking again, "Who's a good boy?"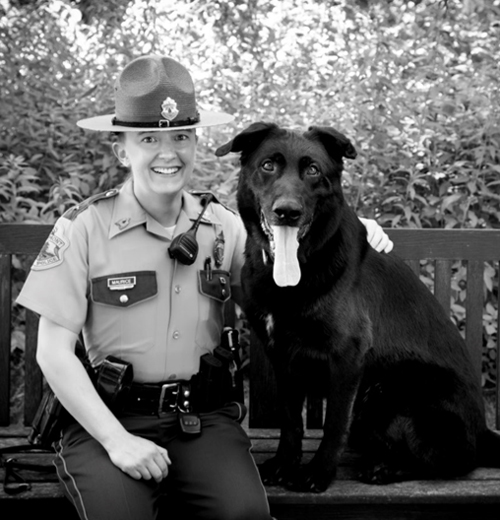 Police dogs work for about a decade or so and when Cole retires, he'll just be her dog and she'll interview to be a dog handler again.