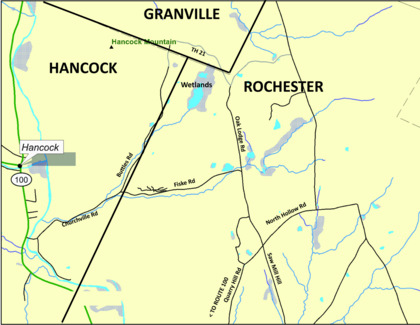 Severe damage to municipal roads in Hancock and Rochester have town officials contemplating creating a stretch of road on a Class 4 road that runs through Granville to connect routes for the winter.
Flooding during Irene did serious damage to Churchville Road in Hancock. The dirt road was severely eroded and is currently open with one lane only. The only access for those residents, including medical patients who need regular treatments, is via Fiske Road, which runs through Rochester.
Fiske Road was also severely damaged in the storm and has received a temporary fix, but there is no assurance that it will last through another storm event and/or the winter. If Fiske Road fails Churchville Road residents have no way out and fire, police and emergency medical services have no way in.
Town officials from Hancock and Rochester met with the Granville Select Board this week to discuss a possible solution if Fiske Road fails. Officials are looking at the possibility of connecting the upper part of Churchville Road to the Class 4 Town Highway 21 in Granville and improving a 500- to 600-foot section of trail to connect Town Highway 21 to Oak Lodge Road which provides several options to get down onto Route 100, albeit significantly longer options.
At issue are questions of funding, disaster relief and a wetlands problem. Town Highway 21 runs through a Class 2 state wetland. There are concerns about whether the state would even allow a temporary road through that area.
Also problematic is the fact that the failed or failing roads that are causing the need to upgrade are in Hancock and Rochester, but the solution may be in Granville. FEMA will not fund repairs in Granville necessitated by flood-wrecked roads in Hancock and Granville, explained Hancock Select Board chair Jack Ross.
Ross said that the town has not been able to get an estimate on the cost or process of fixing Churchville Road and said that fixing the road could not happen between now and winter.
"If Fiske fails, the consensus is that we will have to find another route because fixing Churchville is not just a matter of putting the road back. It has slumped and we can't put the gravel back without fixing the slide. It's going to take engineering and work. We have other road issues that we're trying to deal with as well and we've only seen FEMA once," Ross said.
Rochester road foreman Dan Gendron said that the issue with Fiske Road was that a whole hill is sliding away into a brook. He said that Rochester has not received any FEMA costs estimates on fixing that road either. Gendron said that Fiske has been made driveable and he said, "Hopefully it's going to hold." Gendron said that the current scenario with Fiske providing access for Churchville Road residents means that Hancock will need to plow Fiske Road this winter because the Rochester plow is too big for the current width of the road.
And Granville has its own serious road issues. Buffalo Farm Road, which comes down to Route 100 by D's Doghouse, is completely washed out and closed for the winter. Road foreman Kevin Bagley said that the town is working with FEMA on the problems.
"There are quite a few issues with the road. The problems start at the bottom and go all the way up. The road is built on a clay bank and there are three different slides. There is one section of road that has cracked down the center line, along the ditch line and along the bank edge. There are 6- to 8-inch gaps in the road that are 3 to 4 feet deep and several feet long," Bagley explained.
Residents of the road are not trapped. They have access via two other roads above the damage. Estimates to repair that road range from $750,000 to a million dollars.
Asah Rowles, who is coordinating flood relief efforts in Granville, said that an estimated 1,000 trees are down on Buffalo Farm Road and said that the town has hired a retired VTrans employee to help sort through road issues, including FEMA and engineering and repairs.
"When Hancock and Rochester came to the Granville Select Board this week to talk about creating Churchville Road access via Buttles Road and Town Highway 21 in Granville, a Class 4 road that would need to cross a Class 2 state wetland to connect to Rochester, I think people were asking why the efforts weren't going into trying to fix Churchville and Fiske? Fiske is cracking and deteriorating too," Rowles said.
Town officials from all three select boards are expected to meet on Friday of this week to continue the multi-town road discussion.
{loadnavigation}