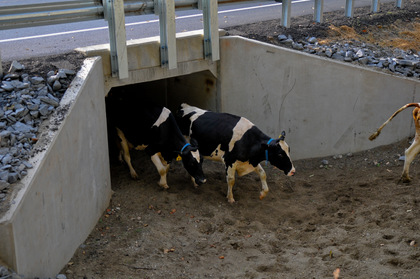 ---
"This is like what I imagine Little Miss Muffet was eating," Taylor Burt said, sampling a fresh cheese curd.
Several people gathered around a bowl in the Center for Whole Communities' (CWC) kitchen at Knoll Farm in Fayston last Friday, July 13, to try what would have been cream cheese, had the curds not solidified a bit too much. "I'm not sure what went wrong…" Burt said, thinking. "But we can make it into something else."
Burt, a former CWC chef, led the latest installment in the center's ongoing Farm and Food Workshop series, which hopes to teach the age-old—yet ever evolving—art of taking care of the land, eating off the land and nurturing human health through a knowledge and connection with plants. Burt's workshop, titled Raw Milk and Homemade Cheeses, served as an introduction to the culturing and fermentation processes involved in do-it-yourself dairy.
The occasional cottage cheese failure aside, "cheese-making is so accessible," Burt said, explaining that it really only requires three ingredients. "You don't have to buy a bunch of miscellaneous items from online."
It does help, Burt explained, to develop a relationship with a local dairy farmer to ensure easy access to raw milk, rather than the pasteurized product sold in stores. "Farmers in The Valley love their cows, and they feed them really good things," Burt said.
Participants in the workshop used raw milk to make yogurt as well as different types of soft cheeses, which they made by heating the milk with a culture and an enzyme complex called rennet and then cutting the curds that formed in different patterns.
Essentially, "all cheeses start the same way," Burt said, and the difference between mozzarella and feta is in what happens after the curd is cut. Sometimes it works out and sometimes it doesn't, but while the cheese-making process is at times unpredictable, "it's really magical stuff," Burt said. "It's one of those processes that you start and you just can't stop."
"I'm making yogurt tonight," one participant said.
For a list of upcoming CWC Farm and Food workshops, visit their website at
knollfarm.org/events-and-workshops.html.