Sugarbush concurs with a Vermont Ski Areas Association (VSAA) response to a potential mandate for helmets for all on-snow employees.
Last week the Vermont Occupations Safety Hazard Administration (VOCHA) sent a notice to VSAA from the Vermont Department of Labor notifying the group that ski areas would be fined if they failed to comply with a mandate for helmets for on-snow employees.
VSAA executives met with the governor's office last week to voice strong opposition to the mandate. According to a VSAA newsletter, the governor's chief of staff Bill Lofy was likewise unaware this edict was being issued and was very receptive to the arguments and concerns. As a result, the governor has directed the department to hold off on issuing this policy in order to give us time to work through this issue and hopefully achieve a favorable resolution.
At Sugarbush, president Win Smith noted that the National Ski Areas Association is also opposed to mandatory helmet legislation as is he.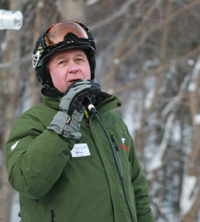 Sugarbush president Win Smith. File Photo
"However we strongly encourage the use of helmets for all, and we see that the vast majority of skiers and riders wear helmets including our employees. It is our position that wearing a helmet is an individual responsibility except for specific jobs like snowmaking. Evidence from worker's compensation claims does not support the need for mandatory helmet legislation for all employees," Smith said.
"Furthermore, for a requirement to come out in mid-season is ridiculous. Helmet orders were placed months ago and this item was not budgeted by any ski resort. After being hit by the impact of Irene to the tune of $800,000 and after a very slow start due to high temperatures and little snow until recently, this would have a negative impact on our operation. Thankfully
Governor Shumlin understands what a ridiculous idea this was on the part of the Labor Department," he concluded.
{loadnavigation}