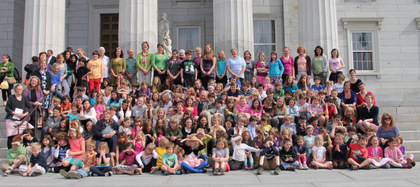 The staff and students of the Warren Elementary School were at
the Vermont State House on April 20 where Dr. Andreas Lehner
was honored by a resolution from the legislature. Lehner is retiring
as principal of the Warren Elementary School this year after 24 years
on the job.
---
Dr. Andreas Lehner, retiring this summer after 24 years as the principal of the Warren Elementary School and after almost 50 years in education, was honored at the Vermont State House last week with a resolution passed by the Legislature.
The entire staff and student body of the school was present at the State House on April 20 when local state representative Adam Greshin (I-Warren) introduced "H.C.R. 364 Honoring Andreas Lehner for his outstanding administrative leadership in public education."
With the balcony full of Warren students and staff, Greshin read the following introduction:
"Mr. Speaker:
"I'd like to introduce to you and to the body a school-full of special guests this morning. They're here to honor one of their own – a principal, a mentor and an educator. Andreas Lehner, affectionately known as Dr. L among his colleagues and students, will retire this spring after 24 years as principal of the Warren School and almost 50 years as an educator.
"Dr. L came to Warren in 1988 and saw the school through over two decades of the vicissitudes of education policy in Vermont. He is clearly a gifted administrator but perhaps more importantly, he's a community leader. He was one of the first to recognize that school is about the kids but it's also about the parents. Warren was one of the early schools to offer P4 education and, under his guidance, eight years ago we added a P3 class as well. Today working parents can drop their young children at the Warren School in the morning and pick them up late afternoon and know they are in a warm, nurturing and enriching environment all day long.
"Dr. L was also early to embrace the dreaded NECAP exams. Rather than view them as an intrusion, he saw them as an opportunity to measure progress, fill in gaps and promote excellence. The Warren School has always been a top performer in NECAPs.
"And Dr. L fully embraced the diversity of our community. Long before No Child Left Behind, he relished the challenge of pushing every child to reach his or her potential. For those in need of an extra push, he championed a model special needs program, one that we hope will not only survive the changes envisioned in Act 153, but become a model for the rest of the state. Last year Warren was recognized by the Department of Education as one of 14 schools statewide which have successfully narrowed the achievement gap between students of diverse economic backgrounds.
"It should come as no surprise that the Warren School is one of the few schools in Vermont with a growing student body. At this year's Town Meeting, voters approved the budget for the construction of a new classroom this summer.
"Mr. Speaker, as a parent of three Warren School alums, a school board member and a legislator, I've learned a great deal about education. The one certitude I can trust in this vast and complicated field is: Leadership counts. In Dr. L, we have had a first rate leader. It is impossible to exaggerate the impact this man has had on my community. It gives me great pleasure to introduce to you and to the body Andreas Lehner."
{loadnavigation}