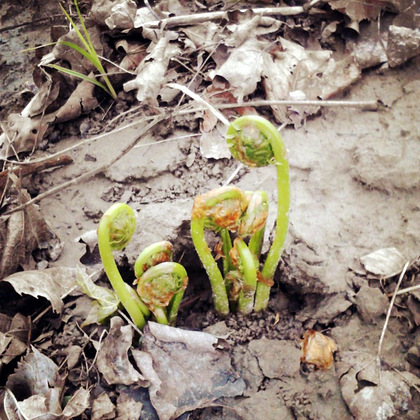 Fiddleheads popping through the river mud, April, 2012
Photo: Chris Stecher
---
Picking and eating fiddleheads, the edible ferns that grow along Vermont's stream banks in the spring, is an annual rite of consumption for many.
Fiddleheads emerged on the banks of the Mad River recently, unfurling through many inches of silt left in the aftermath of Tropical Storm Irene-related flooding.
While the delicacy is plentiful this year, many people are questioning whether they should be eaten because of the severity and widespread nature of last August's flooding. Fiddlehead ferns are the curled emerging fronds of the ostrich fern, Matteuccia struthiopteris, a native of wet soils.
Because they emerge from the silt/soil along riverbanks they are regularly exposed to seasonal and annual flooding. Traditionally, fiddleheads must be boiled or steamed for 20 minutes before eating to protect against illness.
Flooding of the magnitude experienced during Tropical Storm Irene brought propane tanks, farm waste and sewage, among other things, to the banks of the Mad River. Fiddleheads grow in the woods as well as along streams and while the woods saw flooding last August, it was much less than major rivers and streams.
The Valley Reporter queried the Mad River Localvores and Friends of the Mad River as well as the Vermont Department of Health for advice on whether to eat or not eat fiddleheads harvested from the Mad River and major tributaries.
Localvore spokesperson and a chef who runs a business named Fiddlehead Cuisine, Lisa Barnes, said she had picked and eaten some herself this year and felt fine. She acknowledged that she was not an authority and said she had seen people picking them on the banks by the Pony Farm Road in Moretown.
"Everyone I have talked to says the soil fixes itself with six months of healing time, but it is always smart to test the soil just in case. My garden soil is at the UVM lab right now, but I haven't heard back yet. I am not sure if anyone has tested some spots along the river," Barnes said.
Caitrin Noel, director of the Friends of the Mad River, referred the question to Vermont state toxicologist Anne Macmillan, noting that "in the river buffer in Moretown we have found countless pesticide cans and gas cans. Yuck and dangerous."
Macmillan provided several Vermont state web links dealing with post-flood gardening and food-related issues. (See below.)
Elisabeth Wirsing, food and lodging program chief for the Vermont Department of Health, offered recommendations from her department for eating fiddleheads this spring.
"The recommendations for the public would be to follow regular precautions of thoroughly washing all fiddleheads after harvesting and to thoroughly cook them by boiling for 10 minutes or steaming for 20 minutes. Potable water used for cleaning or cooking fiddleheads should be discarded. If you are harvesting in a known active flood zone, avoid any fiddleheads that are obviously contaminated and take the time to wash all fiddleheads carefully."
The links from Macmillan are as follows:
Information on the Impact of Irene on Vermont Agriculture:
www.uvm.edu/vtvegandberry/Pubs/ImpactIreneVermontAgriculture.pdf
A fact sheet created by Vermont Department of Health:
http://healthvermont.gov/enviro/water/documents/gardening_after_flood.pdf
{loadnavigation}