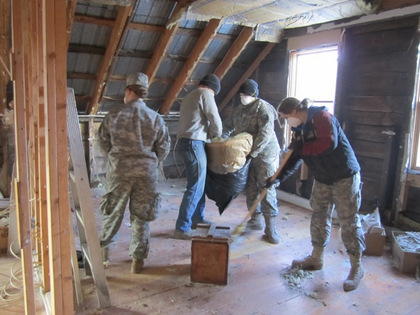 ---
The spring cleanup season took on new meaning this year with flood cleanup and Green Up rolled into one giant effort. Mad River Long Term Recovery Spring Clean Irene work in the four towns has helped many homeowners with outside home and yard projects.
The Green Up to Recover effort has targeted extra cleanup to collect flood debris and trash mainly along the Mad River corridor. Groups of volunteers from the University of Vermont and Green Mountain Valley School have spent time in the Mad River Valley recently and picked up more than 200 bags of trash.
Green Up Day saw an especially hard-working effort all over The Valley. In all, nearly nine tons of trash was picked up in the Mad River Valley alone – a typical Green Up Day nets one to two tons of trash. The statewide Green Up to Recover project along with Casella and the WSI Landfill in Moretown have helped cover the trash removal costs. Additional cleanup on projects small and large will continue in the coming weeks as needed.
Local flood relief organizers have two main messages for local residents, according to Asah Rowles, chair of the Mad River Long Term Recovery Group.
First, those who still have a project at their home or on their property that could use some help are asked to contact Mad River Long Term Recovery to get it on the to-do list. Call 496-6089 or email Asah Rowles at This email address is being protected from spambots. You need JavaScript enabled to view it..
Secondly, those who know of places with trash, tires and other flood-related debris, especially along the river, are asked to contact Mad River Long Term Recovery or Friend's of the Mad River at 496-9127 or This email address is being protected from spambots. You need JavaScript enabled to view it.. Obvious spots and easily reachable sites have been targeted and cleanup of large areas is winding down. As warm weather sets in, more people will be fishing and paddling along the river. Those who are on or near the water and still see areas that need attention are asked to email or call, 496-6089.
Rowles also notes that free trees are available from the Intervale Conservation Nursery which has 3,000 trees and shrubs to give away, courtesy of the Waterwheel Foundation, to replace flood-damaged vegetation. They are all bare-root native, riparian species. There are a variety of sizes and types including elm, boxelder, ash, birch, cottonwood, oak, dogwood, maple and alder. The intent is to give them away over the next two to three months. Individual landowners can contact the ICN directly (802) 660-0440, x114, or This email address is being protected from spambots. You need JavaScript enabled to view it.. Mike Ingalls is the nursery manager.
June 1 SBA Loan Deadline for Nonprofits: The U.S. Small Business Administration reminds private nonprofit organizations in Vermont that June 1 is the deadline to submit Economic Injury Disaster Loan applications. The SBA offers Economic Injury Disaster Loans to help meet working capital needs such as ongoing operating expenses for eligible organizations. This assistance is available regardless of whether the organization suffered any physical property damage. Loan amounts can be up to $2 million; the interest rate is 3 percent with terms up to 30 years. Amounts and terms are based on an applicant's financial situation. For information and forms, call the SBA's customer service center at (800) 659-2955 or email This email address is being protected from spambots. You need JavaScript enabled to view it.. Download forms at www.sba.gov or file electronically at https://disasterloan.sba.gov/ela/.
"What can Mad River Long Term Recovery do for you? Many things related to flood recovery. Help is available with applying for disaster relief grants. Find out about discounts for building materials from local retailers. Contact an expert for help for ongoing mold issues in your home. Volunteers are available to help with wrapping up construction projects, moving back home, getting your yard in shape for summertime," Rowles said. Visit www.facebook.com/MRVpostIrene. Call 496-6089 or stop by HQ in the Mason's Lodge, 4376 Main Street, Waitsfield.
{loadnavigation}