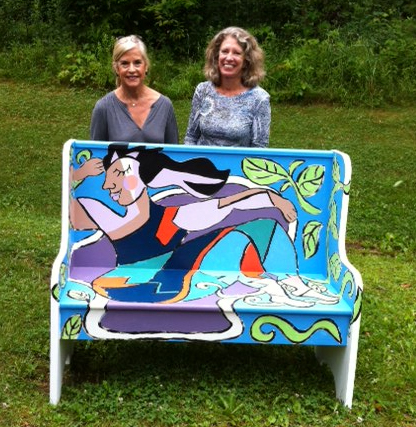 Throughout the month of June, artists all across The Valley have been drawing, painting and creating their beautiful art on 18 fabulous benches. Their work is almost done; the benches will be unveiled for everyone to see at the Fourth of July Parade in Warren next Wednesday! They will be auctioned off this summer for the Valley Arts Foundation.
Once unveiled, the benches will be delivered to sites all across The Valley for display. Stop by the Festival Gallery for a map. The benches will be set out in front of many Valley businesses and organizations including The Valley Reporter, the Mad River Valley Chamber of Commerce, The Festival Gallery, Sugarbush, The Pitcher Inn, The Warren Store and West Hill House B&B. Eighteen locations – it will be like a treasure hunt to find them all.
"A couple times during the summer, we will rotate the benches around the various sites to keep things interesting," said Karen Nevin, director of the Vermont Festival of the Arts and the Valley Arts Foundation.
As a fundraiser for the Valley Arts Foundation, local carpenters handcrafted 18 wooden benches as blank canvasses for area artists to transform.
We haven't been disappointed! With titles such as "Meet Me in the Garden," "Five Hens, One Worm," "Family Fun," "Picture This" and "The Harvest" you can just imagine the creativity and inspiration that each artist has brought to this unusual canvas," Nevin said.
The different styles of artists such as Gaelic McTigue, Jane Allen Cunningham, Kris Chamberlain, Bette Ann Libby, Carlyn Hass and Gary Eckhart make this fundraiser diverse and fun. Each bench is 50 inches long by 42 inches high, making them strong and very comfortable for two people.
"One of these benches will make an incredible impact on your porch or in your family room," Nevin said.
All of the benches will be open for silent bidding immediately following the parade. Bidding will take place online at the Festival website, www.vermontartfest.com, where those interested can learn who painted each bench and its title. Bidding will be open until Friday, August 31.
"Burlington had its cows, Bennington had moose and Brandon went with pigs. The MadRiverValley has enough real farm animals! We, in The Valley, are always practical and stylish," Nevin added.
{loadnavigation}