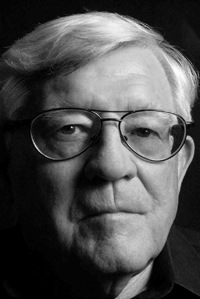 ---
A well-known and highly respected author and photographer, Peter Miller, will speak at the opening reception of the Photography Show in the Round Barn on August 7. The reception begins at 5:30 p.m. with refreshments provided by Cooking from the Heart. There will be an opportunity to meet with the photographers exhibiting in the show. Last year over 40 photographers exhibited their work.
Miller, from Waterbury Center, has had a long and varied career. He came to Vermont at the age of 13 after spending his earlier years in New Jersey and Connecticut. As a teenager, he spent much of his time in the great outdoors during all seasons enjoying hiking, hunting and skiing. Miller tells the story of how when in high school he had a gun stolen and his mother gave him the insurance money which he used to buy his first camera, a twin lens reflex Kodak camera.
After graduating from Burr and Burton Academy in Manchester in 1951, Miller attended the University of Toronto graduating in 1955 with a degree in literature. While there, he joined a campus photography club. At a club photography exhibit, he entered one of his photographs of a barn. Yusuf Karsh, the famous portrait photographer, was asked to judge the show. As a result, Karsh invited Miller to apprentice with him in Europe. After a year, he decided that schlepping the famous camera gear was not his bag, so he enlisted in the U.S. Army becoming a photographer with the Signal Corps stationed in Paris.
He returned to the United States in 1958 after he completed his army tour. With a degree in literature, he had always been interested in becoming a writer. In 1959, Miller landed a job with Life magazine as a reporter/writer, giving up photography, at least for the time being. One assignment he vividly recalls was the sinking in April 1963 of the nuclear submarine Thresher while undergoing deep diving tests with the loss of 129 officers and men. While most of the Life staff working on the story focused on the accident itself, Miller was able to identify, locate and interview many of the family members of the crew. While with Life, he was able to spend time in the layout room, an experience that would later prove useful when he became a writer and publisher.
The pressure and stress of publishing deadlines with a weekly news magazine was not particularly appealing to Miller and in 1964 he returned to Vermont where he has been based ever since. He found work as the editor of Vermont Skiing Magazine, a position he held through 1968. He then moved on to Ski Magazine where he was a contributing editor and photographer. In this capacity, he visited 107 ski areas on seven continents following the World Cup Ski Racing. At one time, he gave serious thought to going to Vietnam as a photo journalist, but when he thought of his two children, he thought better of it.
In 1981, Miller struck off on his own as a freelance writer and photographer. He has to his credit eight published works and he is working on his ninth which is expected to be out next year. He has had his work exhibited in Paris, New York, Tokyo and Boston among other places. He has received several awards for his work including the Lifetime Achievement in Ski Journalism. He has a gallery in Colbyville with many of his photographs on display and literally thousands more from not only Vermont but from around the world lying in drawers (pre-digital age) and on computer files.
{loadnavigation}