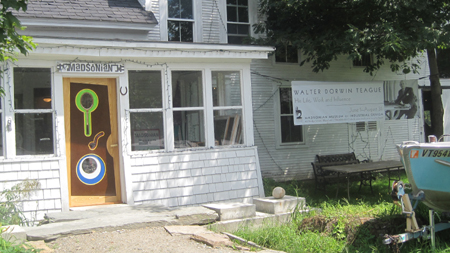 "Try that pencil sharpener right in front of you," David Sellers told a visitor at the Madsonian Museum of Industrial Design, gesturing to a steel contraption mounted on the wall. The pencil sharpener—which was built in 1906—still works today, as do most items on display in the old colonial building on Bridge Street in Waitsfield.
According to Sellers, the acclaimed architect who opened the MadsonianMuseum two years ago, today's society is dominated by the mentality that "if it's old, throw it out," he said. "Even if it still works."
So, about 20 years ago, Sellers started visiting antiques shops and flea markets, collecting items that he believes represent the "best of industrial design," he said—items that shouldn't be thrown out. "And then I realized eBay was out there," Sellers said, and he started tracking down specific items he admires, such as a retro red Skippy-Racer scooter that was built in the 1930s.
Today, the Madsonian Museum of Industrial Design is filled with the items Sellers collected, along with others that were donated or loaned for display, including what would now be considered "vintage" train sets, bicycles, radios and even egg beaters.
While other famous –sonians, such as the Smithsonian Museums in Washington, D.C., and the Wolfsonian Museum in Florida, have rooms that feature industrial design products, Sellers explained, the Madsonian Museum (the "Mad" River Valley's own –sonian) is the only museum in the country completely dedicated to industrial design.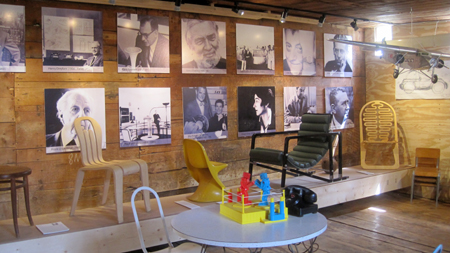 But what exactly is industrial design? According to Sellers, industrial design comprises those objects that were designed to be mass-produced. "It's not like a painting, where there is only one of them," Sellers said. Instead, all of the items in his museum "were made in a shop and there are many of them," he said.
But to Sellers, some of them are really beautiful. Anna Urban, an aspiring architecture student who helps Sellers design exhibits, admires Sellers' ability "to recognize beauty in everyday products," she said.
In the museum, there's old can opener and orange squeezer "that are just classic," Sellers said, explaining that beauty for him is in "the lines, the proportions and attention to detail," but it's also in the object's functionality. "Part of the beauty is [in] touching it and seeing how it works," Sellers said.
Indeed, one of the coolest things about the MadsonianMuseum is that it allows for a very hands-on experience. Because there are multiples of almost everything in the museum, "We can go ahead and say 'touch it, play with it,' without having to worry about things breaking," Urban said.
"This isn't an antique shop," Sellers added, explaining that most of the items on display were built in the United States between World War I and the 1960s, a time when he believes some of the most beautiful products were made.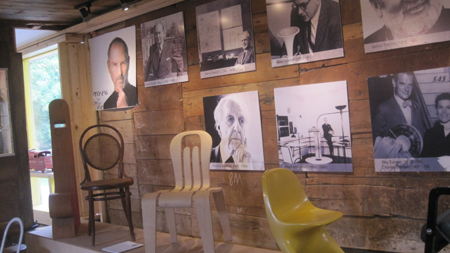 Although Sellers believes the quality of mass-produced items has since deteriorated, he remains optimistic about the future of design. One of the newest items on display in the shop is an Apple computer and when Steve Jobs died last year, Sellers added his photo to the museum's "Wall of Fame," alongside photos of other industrial design veterans such as Raymond Loewy and Henry Dreyfuss.
And this summer, the MadsonianMuseum's main exhibit is devoted to Walter Dorwin Teague (1883-1960), who was the first person to call himself an "industrial designer." Teague is best known for his designs for Kodak cameras, the steel-legged Steinway piano and much more.
A timeline of Teague's life and influence—as well as several of his products—is currently on display in the museum's exhibit, which was spearheaded by Teague's granddaughter, Allison Teague, who used to live in nearby Fayston and currently resides in Putney, Vermont.
This Saturday, August 11, Allison Teague will speak about her grandfather's work at a special MadsonianMuseum event to celebrate the last month that the Walter Dorwin Teague exhibit will be on display. The event will be held from noon to 6 p.m. (with Allison's talk beginning at 2 p.m.) and is open to the general public.
{loadnavigation}