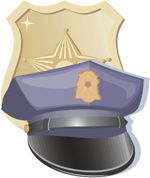 On Thursday, October 18, 2012, at 11:58 p.m., Officer Brett Lindemuth was dispatched to 148 South Main Street, Waterbury, to investigate the complaint of two gunshots. Upon his arrival, he spoke to the complainant. While speaking to the complainant, he heard the sound of glass falling. Lindemuth saw a male wearing a dark hoodie running from the side entrance of the Waterbury Pharmacy.
Lindemuth changed locations quickly and tried to stop the suspect who fled on foot. The suspect ran behind the pharmacy and Subway where Lindemuth lost sight of him. Lindemuth called for backup assistance once he realized he had a burglary and suspect fleeing on foot. The suspect shot out the narrow window to the right of the side entry door. The glass Lindemuth heard was falling from the already broken window when the suspect came through the window and fled the area.
Vermont State Troopers Brandon Doll, R. Green and Chris Brown of the Middlesex Barracks responded to provide assistance. Sergeant Wade Corcoran and Officer Kevin Moulton of the Montpelier Police Department responded to officer assistance.
Chief Joby Feccia and Officer Brett Lindemuth of the Waterbury Police Department were on scene. Officer Moulton, Trooper Green and Trooper Brown searched the area on foot with a police K9 in an attempt to locate the suspect.
Two 9mm shell casings and two 9mm projectiles were collected as evidence at the scene.
During this burglary investigation, a domestic assault call came in. The accused left the residence, driving intoxicated and prior to Lindemuth and Feccia's arrival on scene. The suspect's name and date of birth and vehicle description were relayed to dispatch. The accused threw a pint glass, a cordless phone and a baby gate at the complainant. The complainant refused to cooperate with a criminal investigation.
The burglar alarm did not sound during the shooting or break-in. The alarm did not sound until officers made a second entry into the pharmacy by opening the front door. When the door was opened there was a 25- to 30-second delay and the alarm went off. This did not occur during the initial search of the building, burglary or the shooting. The motion sensors and glass break sensors were either malfunctioning or not properly armed. If the alarm had sounded, the officer would have caught the armed suspect in the store. Instead, he responded across the street to speak to the complainant.
The Waterbury Police are trying to locate Anthony Maskell, DOB February 26, 1984, for questioning. Maskell is listed as 5 foot, 6 inches and 125 pounds. He is thought to be armed with a 9mm semiautomatic pistol. If located please contact the Waterbury Police Department at (802) 244-7339 or dial 911.
Officer Lindemuth then reported, "I am on my way to an attempted burglary of the Merchants Bank ATM at 994 Waterbury Stowe Road (Route 100), Waterbury, Vermont 05676."
{loadnavigation}