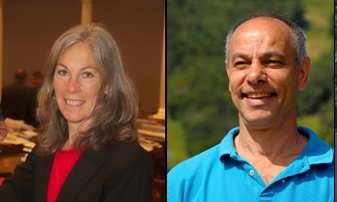 Voters in the newly minted Washington 7 District elected Maxine Grad (D-Moretown) and Adam Greshin (I-Warren) to the Vermont Legislature on Election Day. The two emerged victorious in a three-way race that also included Sal Spinosa (I-Waitsfield).
Grad had previously represented Moretown, Roxbury and Northfield, while Greshin had previously represented Warren, Waitsfield and Fayston. Together they will represent Warren, Waitsfield, Fayston, Moretown and Duxbury.
Grad received a total of 2,866 votes from the five towns, Greshin received 2,688 and Spinosa received 1,472.
2008 vs 2012
In 2008, Duxbury voters gave 548 votes to Barack Obama, compared to 505 this week. In 2008, Fayston voters gave 590 votes to Obama, compared to 528 this week. In Moretown in 2008, voters cast 726 ballots for Obama, compared to 664 this year. Waitsfield voters cast 897 ballots for Obama in 2008 and 824 this year. Warren voters gave Obama 828 votes in 2008 and 774 votes this year.
In 2008, Republican presidential nominee Senator John McCain received 203 votes in Duxbury, 202 in Fayston, 291 in Moretown, 247 in Waitsfield and 199 in Warren. This week Republican presidential nominee, Governor Mitt Romney received 184 votes in Duxbury, 189 votes in Fayston, 261 votes in Moretown, 237 votes in Waitsfield and 197 votes in Warren.
Voter turnout in The Valley was high, ranging from 66 percent in Moretown and Warren to 75 percent in Waitsfield. Turnout was 70 percent in Fayston and 68 percent in Duxbury. During the 2008 presidential election, voter turnout in The Valley ranged from a low of 72 percent in Warren to a high of 83 percent in Waitsfield. In Fayston, in 2008, voter turnout was 79 percent. It was 78 percent in Duxbury and Moretown.
Valley voters followed state trends in re-electing Ann Cummings (D-Montpelier), Bill Doyle (R-Montpelier) and Anthony Pollina (P-Middlesex) to the Vermont Senate.
Local voters likewise followed statewide trends in re-electing President Obama, who received 3,295 votes compared with 1,068 for challenger Governor Mitt Romney.
From the Washington 7 District, incumbent U.S. Senator Bernie Sanders (I) received 3,420 votes to his challenger John MacGovern's (R) 870 votes.
Incumbent U.S. Congressman Peter Welch received 3,378 votes to Republican challenger Mark Donka's 777 local votes.
In the race for governor, incumbent Democrat Peter Shumlin received 2,762 votes compared to Republican Randy Brock's 1,456 votes.
In the race for lt. governor, Democrat/Progressive Cassandra Gekas received 1,511 votes compared to incumbent Republican Phil Scott's 2,524.
In the race for Vermont attorney general, local voters gave Republican Jack McMullen 1,090 votes, incumbent Democrat Will Sorrell 2,563 votes and Progressive Ed Stanak 470.
Justices of the peace were elected across The Valley. In Duxbury, the justices of the peace are Brenda Bean Hartshorn, Stephanie Koonz, Jeffrey Larkin, Bonnie D. Morse, Ken Scott, Will Senning and Greg Trulson.
In Fayston, the justices of the peace are Tom Bisbee, Jared Cadwell, Ann Day, Lisa Koitzsch and Rick Rayfield.
Moretown's justices of the peace are Steve Magill, David Tremblay, Catherine Scribner, Gerald Maynard, Rob Roberts, David Siegal and David Deutl.
Waitsfield's justices of the peace are Zeke Church, Charlie Goodman, Andreas Lehner, Mary Lehner, Jim Leyton, Helen Myers and Jennifer Peterson.
In Warren, the justices of the peace are Susan Bauchner, Sandra Brodeur, Rebecca Peatman, Mac Rood and Ginny Roth.