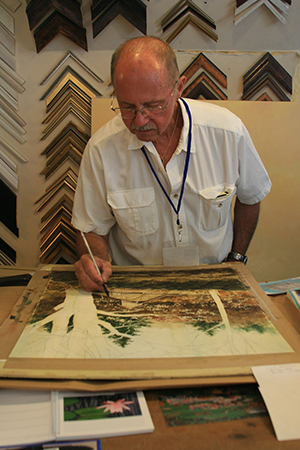 There is much excitement about the Valley Arts Foundation's new event: the Holiday Paint-In during Country Christmas. Artists from around Vermont will be setting up at shopping locales to paint, draw and sketch. Artist Kathy Bergeron will be at the top of the stairs in The Store, painting the holiday decor and antiques that draw shoppers inside. Local artist Ellen Crafton will set up in the Waitsfield Wine Shoppe and create a painting of the golden walls that are arrayed with dark bottles. Stowe artist Lisa Beach will work with the sparkle and glint of glass at the Mad River Glass Gallery. Artist Robert Chapla will be at the Madsonian Museum!
A key to the success of the Holiday Paint-In is the generosity of Norm and Sydney Abend, owners of the white building on the corner of Main and Bridge Streets. The lower space, which formerly housed Quench Artspace, has been empty for a month. Still set up as a gallery, it is the perfect location for the Holiday Paint-In headquarters. The Valley Arts Foundation will move into the gallery space for the weekend, creating an additional stop on everyone's shopping tour through town. As a Country Christmas participant, the Valley Arts Foundation will be selling Vermont Festival of the Arts posters and T-shirts at a deep discount and will have mulled cider and refreshments for anyone who stops by. In addition, the headquarters will have artist location maps available to help identify the shops that are participating.
Most importantly will be the artwork on display, created "plein air" by participating artists. Watch the artists on location Saturday and then return to the Pop Up Gallery to see all the work at the Holiday Paint-In Art Show and Sale. Though a variety of artwork will be on sale all day Saturday and Sunday the pieces painted during the day will go on display at 3:30 p.m. Saturday. Come for the artist reception and unveiling of artwork! A portion of the proceeds will benefit the year-round work of the Valley Arts Foundation.
"There is tremendous buzz about the Holiday Paint-In. The Department of Tourism has been tweeting about it since last week, so we are expecting some extra shoppers in The Valley," said Karen Nevin, director.
"Isn't that the goal? Encouraging more people to visit and experience a true Vermont hometown Christmas? Hopefully they will be happily spending their money in our local shops, while enjoying the Country Christmas festivities put on by the Chamber and the Valley Arts Foundation!" she said.
There is still space available for a few more artists to participate. If anyone is interested, contact Nevin at 496-6682 or This email address is being protected from spambots. You need JavaScript enabled to view it.. Or show up at the headquarters on Saturday.
{loadnavigation}