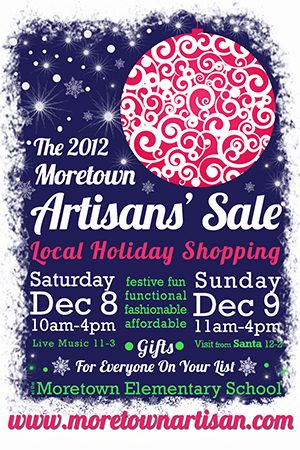 The 2012 Moretown Artisans' Sale will feature over two dozen Vermont artists – students and professionals – at this year's show, December 8 and 9 at the Moretown Elementary School. All artists are from Vermont, the majority from Washington County, and while many have been with the sale for years, this year's show will have some very talented new artists showcasing their work.
Artists will be selling work ranging from pottery, jewelry and handbags to clothing for all ages, whimsical artwork, detailed Ukrainian eggs, bath salts, teas, jams, fudge, wreaths, stained glass, greeting cards and much more. School students will also be participating in the show with live music performances on Saturday. Santa will stop by for a visit between noon and 2 p.m. on Sunday. Admission is free.
Additionally, this year's sale will feature a silent auction benefiting Hannah's House and their mission to help families in emotional crisis find a sustainable path to emotional well-being. The silent auction will feature a wide array of artwork generously donated by artists participating in the show, but additional donations from local businesses are welcome. The auction will run from Saturday at 11 a.m. to Sunday at 2 p.m. Auction winners will be announced at 2:30 p.m. on Sunday and must be present to win.
For more information, including to donate to the Silent Auction, go to moretownartisan.com or contact Meg at This email address is being protected from spambots. You need JavaScript enabled to view it..