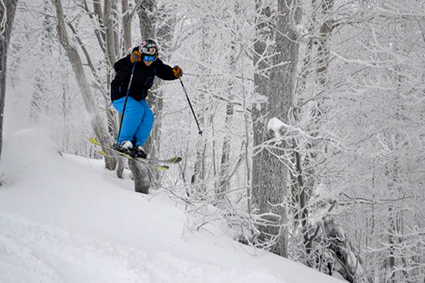 Parking lots have been overflowing and restaurants have been full over the holidays in the Mad River Valley.
While this week's issue is devoted to things to do if you don't ski, the skiing has been so sensational, it's worth a few words. (See our Fun in the Snow stories beginning on Page 3.)
The week before Christmas snow began dropping regularly each night, with Sugarbush opening more terrain daily and Mad River Glen waiting until December 24 to open. Then last week a two-day nor'easter blizzard dropped over 20 inches of snow on the mountains and The Valley and another storm a day later dropped another 10 to 12 inches and skiers/riders and cross-country skiers have been outside playing ever since.
"On Friday, December 28, we smashed our best revenue record by a lot," said Mad River Glen spokesperson Eric Friedman.
"It's been one of the best holiday weeks that we can remember. And coming on the heels of last year's season and Irene, we're really, really, thankful for it," he said.
"We're really happy and it's amazing to see the restaurants and lodges so busy and refreshing to see everyone in The Valley working so hard," he continued.
The weekend after Christmas and after the two-day storm saw traffic at levels that rivaled those of the 1980s. Traffic at the intersection of Routes 17/100 was backed up as far west as the Hyde Away on Friday, December 21.
On Friday and Saturday, December 21 and 22, Sugarbush Lincoln Peak skiers were backed up down the Sugarbush Access Road for several miles and at Mount Ellen, all of the extensive parking lots were full and cars were parked all the way down that access road to German Flats.
The new snow kept skiers and riders happy even though there were bouts of wind hold on December 20 and again on December 30. Lift lines at Sugarbush, never long to begin with, became 15 to 20 minutes at points and at Mad River Glen, the line for the Single Chair grew to about 40 minutes at the peak.
At Sugarbush, the resort reported 80-plus inches of snow in the last two weeks and the resort has been fully open since the day before Christmas.
{loadnavigation}