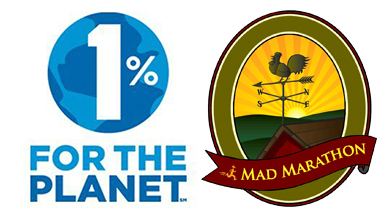 1% for the Planet and the Mad Marathon are joining forces to host the first marathon dedicated to sustainability. The marathon will showcase and support local and regional environmental nonprofit partners and takes place July 7 in the Mad River Valley.
Dori Ingalls, race director for the Mad Marathon, created the "World's Most Beautiful Marathon" in Waitsfield and Warren two years ago. Since then runners from 48 states and 12 countries have come to Vermont to participate.
"The marathon is special because it celebrates our beautiful community and environment," Ingalls said. "Our partnership with 1% for the Planet with its mission to create a healthy planet ensures that the marathon stands for something more."
Headquartered in the Mad River Valley, 1% for the Planet is a growing global movement of hundreds of member companies that donate 1 percent of annual sales directly to approved environmental organizations worldwide. The organization has partnered with the Jessie B. Cox Charitable Trust to increase environmental philanthropy in New England.
"The marathon offers a way to celebrate our local community, our global member businesses and the good work of New England nonprofit partnerships that keep the area so beautiful," says Barbara Friedsam, 1% for the Planet's senior director of marketing and New England.
Ingalls has been involved with big races such as the Ironman and Xterra for years. "I wanted to create a friendly local race experience in The Valley I call home. Runners always want to run for a cause and this has been a green course from the beginning. Solidifying the partnership with 1% for the Planet allows the legacy of local environmental stewardship to live in a larger way. We will still continue to support fundraising efforts by runners for other nonprofits like the Hannah's House and the Stern Center, but we are sharpening our focus on the nonprofits that keep this region so beautiful," says Ingalls.
This year, the Mad Marathon has added options for participating with "Take it Easy or Take It Tough," making the race accessible to teams and families as well as challenging for seasoned marathon runners. "These opportunities align with the message of living a healthy and sustainable lifestyle. Running the marathon alone or on a team is just one of many ways to do so," says Friedsam. "We see this partnership as a way to engage people to support environmental organizations and come see why this region is so unique. We're excited to raise awareness and have a lot of fun along the way."
1% for the Planet is a platform of credibility and engagement for environmentally conscious brands. It has over 1,000 member companies in 45 countries. To learn more go to www.onepercentfortheplanet.org.
For more information on the Mad Marathon and Mad Half visit www.madmarathon.com or email This email address is being protected from spambots. You need JavaScript enabled to view it..
{loadnavigation}