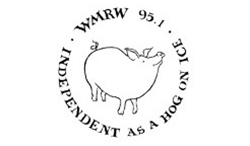 WMRV has some special events celebrating live local radio coming up this final week of its February fund drive.
On Thursday, February 21, 7 to 8 p.m. don't miss the live radio drama Sorry Wrong Number with Susan Marks, Ruth Ann Pattee, Doug Bernstein and others.
On Sunday, February 24, from 5 to 10 p.m., the fundraiser's grand finale offers an evening of live local music benefitting WMRW-LP Warren and featuring some of Vermont's acoustic and rock acts.
Local favorite Seth Eames pairs with Miriam Bernardo to kick off the evening at 5 p.m., followed by singer/songwriter Patrick Fitzsimmons at 6 p.m. Montpelier-based country rocker Mark LeGrand teams up with Warren's Teddy Weber at 7 p.m. and Valley folk-funksters James Kinne and Of the Flow take the stage at 8 p.m. The closers at 9 p.m. are the Burlington-based lyrical-rockers Phil Yates and The Affiliates.
Other musicians slated include Colleen Mari Mays, Louis Brown, Keith Davidson and Matt Sargent.
WMRW is the nonprofit, independent "Voice of the Valley" and operates entirely on volunteer spirit and local support. Everyone at WMRW is a volunteer (all 49 of us), so every dollar contributed goes directly to pay the annual operating expenses which are budgeted for 2013 to be around $12,500.
For more information and to make a donation, visit wmrw.org, to make a credit card or Paypal donation. Those who would rather write a check may make it payable to WMRW and mail it to WMRW, P.O. Box 95, Warren, VT 05674. For more information, call (802) 496-4951.
WMRW is a project of Rootswork, a 501(c)3 nonprofit. All donations are tax-deductible.