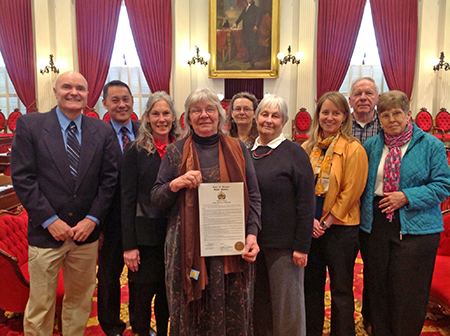 On February 14 at the Vermont State House, a resolution celebrating Duxbury's 250th anniversary was read and approved by the Vermont House of Representatives. 
With a population of about 1,200, Duxbury is home to generations of families as well as to many newcomers. Duxbury is a quiet town linking Waterbury and the Mad River Valley. The friendly residents of Duxbury invite people from throughout Vermont and beyond to celebrate with them in 2013.
The Duxbury 250 Committee – a task force of the Duxbury Historical Society – is planning a wide variety of activities as part of the celebration, including the opening ceremony and community picnic on June 7, the Duxbury Fun Run on June 9, the Duxbury B&B Tour on June 16, participating in the Waterbury Independence Day Parade on June 29, and the Vermont Philharmonic Pops concert on August 11. There are also ongoing activities such as independent hikes to the peak of Camel's Hump and a photo contest sponsored by the Duxbury Land Trust.
The Duxbury 250 Committee invites residents from neighboring towns and other visitors to participate. The committee is also seeking volunteers to help organize and staff the various events. More information can be found at www.duxbury250.com.