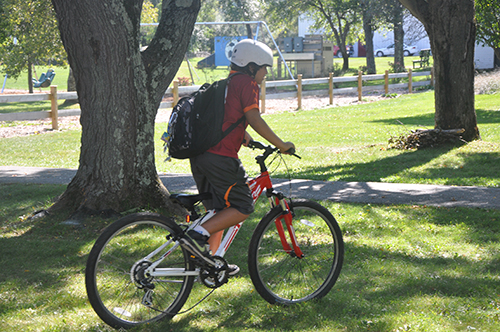 This year's Valley Walk & Roll Festival gets under way on May 10 with lots of healthy, environmentally friendly and fun activities for all ages. The festival started six years ago when the Mad River Valley Health Center, Mad River Path Association and Safe Routes to School collaborated on ideas to promote healthy activities and alternative transportation in the community in conjunction with National Bike to School/Bike to Work week. This year's festival builds on the most popular events and adds a new Bike Parade to the new Bridge Street Art Fair.
The Bike and Trike Sale will be held on Saturday, May 11, at Waitsfield Elementary School. Valley residents and visitors can sell or buy a used bike just in time to participate in the Valley Walk & Roll bicycling events. Bikes for the sale can be dropped off on Friday, May 10. During the sale and drop-off, free bike safety checks are available. "Remember the fun and sense of freedom you felt riding a bike as a kid? Everybody needs a bike!" says sale co-organizer Liz Weller.
John Atkinson will again host a beginner-intermediate mountain bike ride on May 12, showcasing the new Blueberry Lake trails network. Moms on Bikes will host a women's mountain bike ride on Wednesday, May 15, while Peter Oliver will lead a beginner road bike tour in conjunction with the Mad River Riders' regular intermediate and advanced Thursday evening rides on May 16.
The festival once again features the Mad River Path with a trio of hikes/walks. Join Dori Ross on May 14 for a hike on the Millbrook Trail, the Mad Birders for a bird walk along the boardwalk on May 16 and Laura Brines for a West Greenway walk on May 17.
For those who must bike and walk or run and paddle, join the Mad Triathlon on May 11.
Friday, May 20, is Bike/Walk to School and Bike to Work Day. While all Valley elementary schools have Bike to School events on Friday, Waitsfield plans to walk or bike to school every day during the festival and Warren will host a Bike Rodeo on May 14. And don't forget to bike to the opening Waitsfield Farmers' Market and stop by the festival booth for Red Hen goodies and a cheer. Register for the weeklong Way to Go! Commuter Challenge. Anyone interested in walking, biking or other healthier, more earth-friendly and less expensive alternatives to driving alone can register and be entered into a drawing to win great prizes. New this year is a Carbon Throw-Down. "Challenge another business to reduce their carbon pollution," invites Rachel Mullis, program coordinator. Online registration is fast and easy at www.waytogovt.org.
This year's festival will end with the new Bridge Street Art Fair. Costumes, bike decorations and silliness are encouraged for the Bike Parade from Waitsfield Elementary School to the Art Fair where bike racks will allow for plenty of alternatives to car traffic near Bridge Street.
Details on these and more events as they are scheduled are available at www.valleywalkandroll.com and on the back page of this week's Valley Reporter.
{loadnavigation}