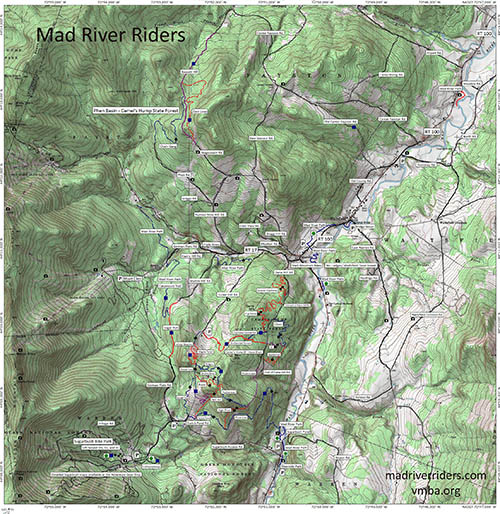 Click the image above for a higher resolution or HI RES MAP
The Mad River Riders and the Vermont Mountain Bike Association have been working hard over the past few years and will celebrate some of that work with two trail openings this spring.
On May 26, starting at 1 p.m., the Mad River Riders and American Flatbread will celebrate the opening of the Revolution Trail which connects The Valley floor to the trails in the Howe Block of Camel's Hump State Forest and beyond.
That trail was created in partnership with Lareau Farm/American Flatbread, the Featherbed Inn and Dana Forest Farm/the Laskovski family. This is the final link in a predominately trail-only route from Sugarbush Village to Waitsfield.
The event gets under way with a trail dedication at Lareau Farm in Waitsfield at 1 p.m. and continues with guided intermediate and expert rides at 1:30 p.m., plus guided hikes. At 4 p.m. there will be a celebration at the Lareau Farm Pavilion featuring music, flatbread, kabobs, salad and beverages.
The local riders will celebrate their trail-building efforts at Blueberry Lake on National Trails Day, June 1, with a dedication ceremony at Blueberry Lake in Warren, beginning at 1 p.m. Free ice cream and apples will be available.
The afternoon celebration features guided beginner and intermediate rides, guided hikes, free bike and boat demos from 1:30 to 4 p.m.
For more info about either celebration contact John Atkinson, Mad River Riders, This email address is being protected from spambots. You need JavaScript enabled to view it., (802) 917-1467. For information about the Revolution trail celebration of American Flatbread, contact Clay Westbrook, American Flatbread, This email address is being protected from spambots. You need JavaScript enabled to view it., 496-8856.
{loadnavigation}