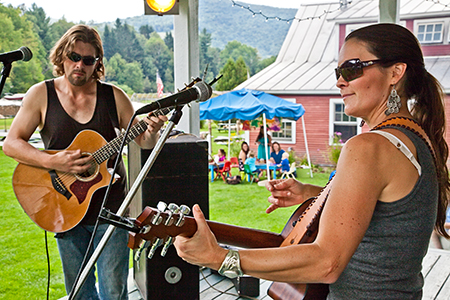 On Saturday, August 24, the Vermont Music Fest returns to The Valley with a free daylong musical event featuring multiple performers and activities on the grounds of American Flatbread and Lareau Farm Inn in Waitsfield.
The fourth annual Vermont Music Fest is an all-day, volunteer-run music festival, celebrating Vermont's talent, harvest, culture and businesses. As in past years, music will run continuously throughout the day on two stages, and the day will end with an acoustic jam around a Flatbread campfire, open to all. There will be plenty of activities for kids (of all ages!), as well as local food vendors.
The musical lineup is as follows:
11:15 Kim & Sharon
Noon Stephanie Lynn & Louie Brown
12:45 Green Corduroy
1:30 The Gulch Band
2:15 The Holter Kids
2:45 Colleen Mari & The Midnight Cowboys
3:30 Haywire
4:20 Bow Thayer Acoustic Trio
5:20 Michelle Sarah Band
6:10 Afri-VT with members of SLR All-Stars
7:40 Steady Betty
8:30 Big Bang Bhangra Brass Band
10:00 Acoustic Jam lead by James Kinne, open to all.
This year Vermont Music Fest has added a Wiffle ball scramble and mountain bike race to the festivities:
Wiffle scramble: The Wiffle scramble will be a three-round tournament open to the first 40 individuals who sign up. (Please do so ahead of time.) Event begins at 10:30 a.m. on August 24 in the field behind American Flatbread. Teams will be chosen at random, and no prior Wiffle ball experience is necessary. More information is available at http://vtmusicfest.com/wiffle-scramble.
Mountain bike race: Mad River Riders will sponsor the Wicked Witch of the East Enduro. It'll be a two-stage race: the first, a five-mile hill climb with Lemans-style start that can be ridden timed or untimed; and the second being a reverse of the first course with a time trial format and 60-second gap between racers. The field is limited to 50 racers. More information is available at www.bikereg.com/wicked-witch-of-the-east-enduro.
The event is free (donations accepted) and open to the public. It runs from noon to 10 p.m. Volunteers are still needed. To volunteer see the website vtmusicfest.com or email This email address is being protected from spambots. You need JavaScript enabled to view it..
The main vendors are Mad Taco, Michael's Good to Go, Localfolk Smokehouse BBQ, VG lobster rolls and maple sweets. Major sponsors are Long Trail Brewery, Citizen Cider, Northern Reliability, American Flatbread, Gillespie Fuel & Propane, Lareau Farm Inn, Lawson's Finest Liquids and Serena Fox Design Company.