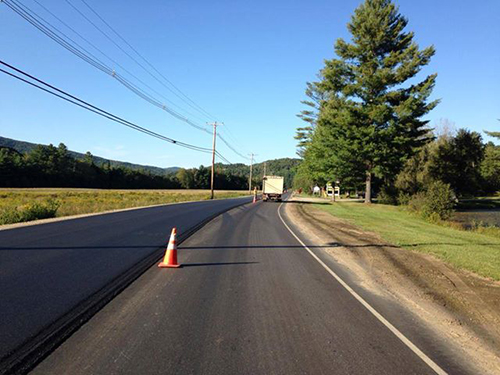 Tempers flared last week on Friday and Saturday when delays due to repaving Route 100 caused lengthy wait times.
On Friday, drivers on Route 100 were delayed for 30 minutes at a time while construction crews worked on the bridge over the Mad River by Lareau Farm.
Resident engineer Josh Hulett said that the lengthy delays were caused because crews were repaving a 24-foot-wide bridge with a 14-foot-wide paving machine, requiring that traffic be completely stopped in both directions. Hulett said that VTrans protocols call for holding traffic no longer than 10 minutes but said that "that bridge was very constrained and there wasn't much we could do."
He said that the surface of that bridge was seriously degraded and required a lot of work.
Contractors have been at work completely rebuilding and repaving Route 100 from the south end of Waitsfield to the south end of Warren since this spring. The long overdue project includes 4-foot paved shoulders for cyclists and pedestrians.
Hulett said that drivers could expect significant delays during the final days of paving – which will continue through this week and next week. He said the final stripping of the road would take place on September 23 and 24.
Neither contractors nor VTrans personnel can specifically recommend that drivers seek other routes to avoid the construction on the state highway, but most drivers now know how to avoid Route 100 by driving on town roads such as German Flats and East Warren Roads.
—LAL
{loadnavigation}