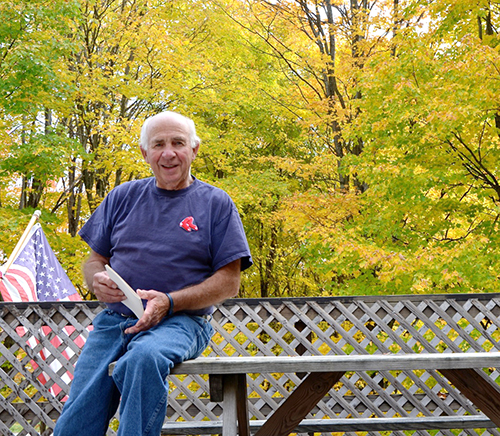 By Andrew Nemethy
Robert Vasseur knows a little something about town government.
That's not surprising when you consider he's been a select board member in the town of Fayston for 54 years. That's right, 54 consecutive years, going on 55. It's a record unlikely to be beaten anytime soon, but Vasseur isn't making a big deal out of it. It's just the way things turned out.
"I guess I'm just stubborn, I don't know," he says with a chuckle. "Somebody had to do it I guess. I was always interested in the town, I grew up here, was born here, it was just a natural thing to do" to join the board.
Still, that's more than half a century of volunteer service. More than a thousand select board minutes, literally hundreds of culverts and curb cuts and alcohol permits approved. He's waded through a mind-boggling list of annual audits, budgets, dump truck and roadside mowing bids and fine-tuned everything from allocations for cemeteries to gravel purchases. He's sat in on myriad board of abatement hearings, heard many wayward dog tales and more complaints about road conditions and taxes than Job had afflictions.
Through it all, from age 26 to age 81, he's kept the same straightforward, low-key approach to running this one-time hillside farm community, now turned ski resort town, where Mad River and Sugarbush's Mount Ellen dominate the skyline. He must be doing something right: He's only been opposed once, he says.
"He's a wonderfully perceptive man in a very understated way," says fellow select board member Jared Cadwell, himself no slacker when it comes to town service, having put in 19 years.
"I"ll never catch up with him," quips Cadwell.
Vasseur's longevity on the three-person board is not just a remarkable personal accomplishment (Vasseur is the last person to tout it), but an incredible asset to the town.
"Bob really does represent so much good history of the Mad River Valley and Fayston in particular," Cadwell says. He adds that Vasseur's style – "a simple, direct and honest approach" – has enabled him to move through the decades and adapt to changing times on the job.
And they certainly have changed.
When Vasseur joined the select board in 1959, Dwight Eisenhower was president and Richard Nixon vice president. Hawaii became the 50th state, and Bob Dylan graduated from high school. A first class stamp was – imagine this – four cents, and the Boston Patriots had just entered the AFL.
That's all a long time ago, but Cadwell says his board compatriot has a wonderful balance of "great conservative values" with common sense and understanding of how times change and how you have to adapt.
"Most of the time he's pretty darn reasonable, and he can be very open-minded, at maybe unexpected times," Cadwell says. "He does have an acceptance that things do change and you move on and don't dwell on the past."
The gap – sometimes chasm – between then and now is eye-opening. When Vasseur first joined the select board, he notes, they didn't even take minutes at meetings, and the sessions often only happened once a month. Lacking a town office, the board often met at the nearby farm of fellow select board member Willis Bragg and his wife Erlene.
"We used to have what we called our 'milkhouse conferences.' Now you'd get thrown in jail," he jokes, referring to the state's open-meeting and right-to-know laws. But back then, decisions had to be made, knowing that the next meeting might be a ways off.
In his first year, the town collected around $25,000 in taxes. Today it's over $6 million, much of which goes to the state for education support, he notes. Back then the town had fewer than 200 residents – and he knew a lot of them personally. Today it has 1,300, and he figures he knows maybe a third.
Select board get a salary? Not exactly. "When I first went in I got nothing, not even expenses," he recalls. Then it got boosted to $25 annually. Now it's $750, and the board meets regularly every other Monday night. In his 54 years, he says with a touch of pride, he's rarely missed a meeting.
One of Vasseur's tasks on the board when he joined was being overseer of the poor, a once-important town post established long before welfare programs, that today is all but forgotten. "I am probably the only overseer of the poor that is still alive – or they gotta be pretty darn old," he jokes.
Soft-spoken and small in size and wearing a Red Sox sweatshirt – he's an avid fan – he greets a visitor in the 1988 ranch-style house he built, where he and his wife Gelia raised three children. It's just above the dairy farm his father and French-Canadian mother bought back in the Depression in the 1930s and he took over and ran until they sold around 60 cows in the federal herd buyout in 1987.
On a sunny October day last week, his house is surrounded by sugar maples dressed in gold and flame. Plastic maple sap tubing runs between the 65 acres of trees in the sugarbush he still retains from the original 340 acres his dad cobbled together and sugars every spring.
Today, the spectacular, much photographed views of the ski resort mountain range across from his steep hillside on Kew-Vasseur Road are one of the town's calling cards. But growing up on that high hill, as a kid and later as a farmer, meant some hardship. Going to school in winter at the No. 9 school on Route 17 meant snowshoeing "cross-lots" several miles down to the two-room school house. When the road was plowed, they could sled down, but then you had to drag the sled back up coming home.
"In winter time, nobody (else) lived up where we were," he says. In mud season, the family left a tractor at the bottom of the hill to get up and down because the road was impassable. As for farming, the land was rocky and steep, and you sense Vasseur was not all that sorry to put an end to getting up at 4:15 a.m. to milk the cows.
"It was getting to be about time," he says, noting he especially doesn't miss the days when they hand-counted voting ballots late into the night, and he had to get up to milk in just a few hours.
Vasseur's ability to serve such a long time, he notes, was aided by the fact that Fayston, a mountainous town with a north and south side and no commercial center, has been relatively less complicated to run than a place like neighboring Waitsfield, where there's a big commercial district where zoning and planning issues, water and sewer issues abound.
Fayston's main story in his five decades has been a road building spree the town undertook as it morphed into a resort area in the 1960s. "That was our major thing, every road was upgraded," Vasseur says. He was in the middle of it all overseeing the effort, turning one-lane roads into two-lane highways.
Vasseur, who reiterates that his years of service are just a simple matter of "somebody had to do it," suggests his current three-year term expiring in 2016 is probably his last.
But it's not likely the town is ever going to find "somebody" quite like Robert Vasseur again.
{loadnavigation}