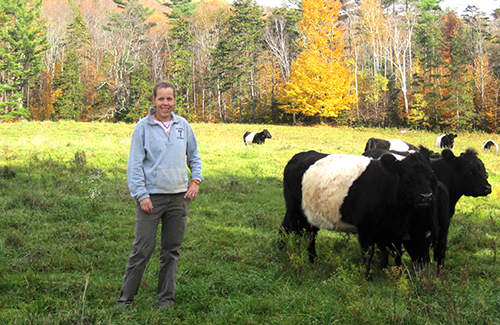 By Rachel Goff
Foliage season in The Valley offers countless views of flame-colored maple trees, but drivers on Rolston Road are likely to pass by another, lesser-known, local trademark: a herd of grazing Belted Galloways. When The Valley Reporter changed its cover photo on Facebook recently to a picture that featured Belted Galloways, social media response was strong and prompted a closer look at the iconic cow and its history in The Valley.
Known to non-farmers as "Oreo cows," the Belted Galloway is a breed of cow characterized by a thick white band across the middle of its otherwise dark brown torso, causing it to resemble the popular snack cookie.
Belted Galloways, or "Belties," were first brought to The Valley by farmer and professor, the late Rowland (Toby) Richards Jr., who purchased his first two cows, Ann and Alice, from the Chatfields' Aldermere Farm in Rockport, Maine. The Chatfields' herd is the oldest in the United States and Richards' is the second oldest.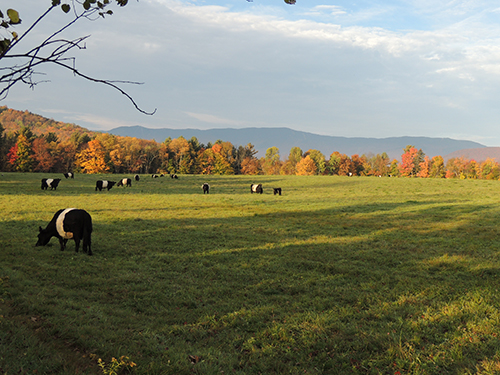 Richards passed away in January of 2013, but his cows are still looked after by his four children at Floodwoods Farm on East Road in Waitsfield.
Richards purchased the property in 1960 while pursuing his Ph.D. at Princeton University to be close to his best friend, Peter Wallis, who lived at the 1824 House in Waitsfield. "When he bought the property, he wanted to preserve the land as it had always been for the families before him," Richard's daughter, Kelvey Richards Wilson, said, and he decided grazing cattle was the way to do so.
When Wallis died soon after Richards purchased the land, for him, grazing cattle took on an even greater purpose. "It became a labor of love," Richards Wilson said. When Richards died this past year, for his children, looking after the herd "became, again, a labor of love very much in memory of our father," Richards Wilson said.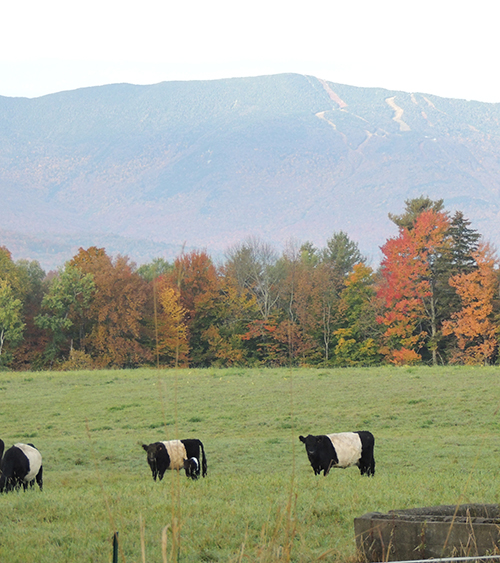 Looking after the herd isn't always easy, Richards Wilson explained, as Belted Galloways are experts at escaping from fenced-in fields. "They like to do their own thing," she said, "so they're probably more free range than they should be.... They test every electric fence."
With good foraging skills and a thick winter coat, however, Belted Galloways are well-suited for The Valley's rough terrain and harsh climates. "They're hardy," Richards Wilson said. "They'll have icicles hanging off their coats in winter."
Right now, the Richards' herd contains close to 100 cows, but theirs aren't the only Belted Galloways in The Valley. Back in the early 1980s, Richards sold cows to a fellow Waitsfield farmer, the late Bob Rose, whose herd, now owned by Waitsfield farmer Hadley Gaylord, moves between fields bordering Rolston Road.
In this way, the Belted Galloway breed "became more visible," Richards Wilson said. Since then, Richards has sold cows to farmers all over the East Coast and even as far as Texas, but in The Valley, the grazing Belted Galloways have acquired an almost iconic status, representing the The Valley's long history of small family farms.