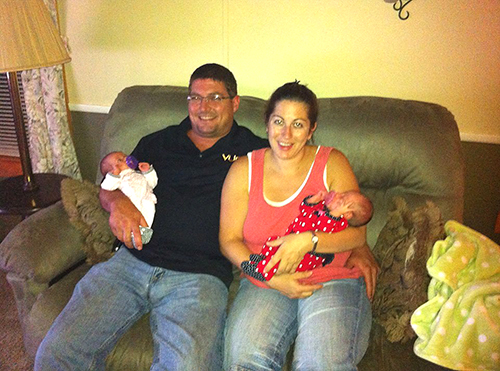 Earlier this fall, on September 5, Dakota Jean Longe—just three weeks old—was rushed to Fletcher Allen Medical Center for shallow breathing and cold skin. Doctors there believed she suffered a heart attack and airlifted her to Boston Children's Hospital for immediate heart surgery.
After nearly seven weeks of tests and monitoring, doctors determined that Dakota is in need of a heart transplant, and on Friday, October 25, Dakota's parents, Erica Duggento, a native of Warren, and Roger Longe, a native of Waterbury, made the very difficult decision to put their daughter on the list looking for donors. Dakota has a twin sister named Brooke who is healthy.
The family lives in Waterbury Center where Roger works for Green Mountain Coffee Roasters and Erica had been working for Choice Strategies. The hospitalization has been expensive and the surgery will be expensive. Friends and family are rallying to help them get through this, both financially and emotionally.
Family friend Gwen Hoadley said that Longe and Duggento had been staying at a hotel near the hospital at a rate of $170 per night until the World Series started when they had to spend a night in their car. They are now in an apartment in Boston at a price of $2,600 per month.
Hoadley said that any parents' decision to put a baby on the list waiting for a heart was made more difficult by the knowledge that in order for their child to live, someone else had to lose a child. She said that Erica had to resign this week from her job and that Roger has to be back at work by November 30. She and others have organized a fundraiser for the family next weekend.
On Friday, November 8, the Post 69 American Legion in Waterbury is hosting a fundraiser for Dakota's family. The fundraiser starts at 6 p.m. and features dinner, dancing, a silent auction and a raffle. All proceeds will help offset Erica and Roger's expenses while Dakota is in the hospital. For more information, contact Hoadley at (802) 371-8675 or Ami Longe at (802) 244-8128.
{loadnavigation}