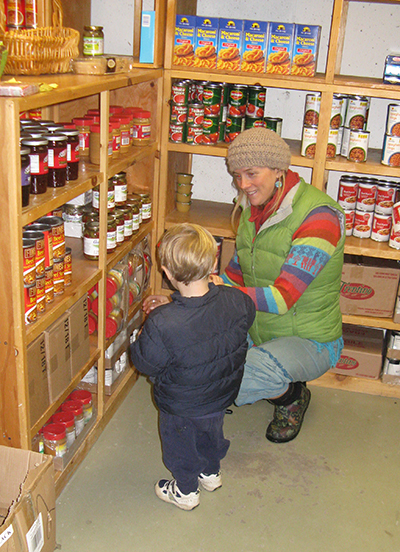 When the federal government reduced its food stamp program this month, the impact was felt immediately at the Mad River Valley Food Shelf in Waitsfield.
Food shelf coordinator Melodie Showacre said that the federal reduction amounted to about $15 per person per month and that it resulted in the highest demand at the food shelf in over a year.
"When your benefits are cut by that much, it's a struggle to figure out what you're going to cut out of your food budget. Most of the people we serve are on food stamps and if they're not, they should be," she said.
In addition to the federal cuts, Showacre explained that the grocery store Shaw's had cut out 750,000 pounds of meat that used to go to Vermont food shelves.
"The need is great and we need just about everything," she said.
There is a constant need for toilet paper as well as fats such as olive and vegetable oils and butter. The food shelf has refrigeration and freezer space available and
Showacre is willing to schedule to meet up with anyone who wants to donate a perishable item.
There's a need for meat and other proteins such as eggs, yogurt and cheese and a great need for fresh or canned fruit as well as juices for grown-ups. The food shelf needs spices and salt and pepper as well. There is always a need for coffee even though some flavored coffees sit on the food shelf shelves and don't move.
"People sometimes have the attitude that people who need food help should just take what they are offered, even if they don't like it. Do you think that being poor means you don't have taste buds?" Showacre asked.
In addition to food to support regular needs, the food shelf is working with the Valley Interfaith Council to gather the food needed for this year's Thanksgiving baskets which will be distributed a few days before Thanksgiving.
Items needed for the baskets include canned turkey gravy (10.5 oz.), peanut butter (18 oz. jar), stuffing, brownie mix (20 oz.), cranberry sauce (16 oz. can), crackers (8 oz.), canned corn, peas or green beans (14.5 oz. cans), large brown-in bags, canned fruit (15 oz. can), potatoes, applesauce (23 oz. can) apples and oranges, biscuit mix, 8-pound chickens, tuna (12 oz. can) and 12- to 14-pound turkeys.
Donations can be left at any Valley church, The Valley Reporter or call Arlie Belknap at 496-3346 to make arrangements for a pickup or delivery. Organizers would like all donations by November 24 as baskets will be packed and distributed on Tuesday, November 24. Those who can help pack or deliver are asked to contact Belknap.
To reach Showacre to donate a perishable item or for other information about the food shelf call 496-6802.
Finally, the Toys for Tots program is not being run from the local food shelf this year. Participants can sign up at the Salvation Army office on 25 Keith Avenue in Barre, (802) 476-5301, on Monday, December 2, from 10 am. to noon. Distribution will be on Friday, December 20.
{loadnavigation}