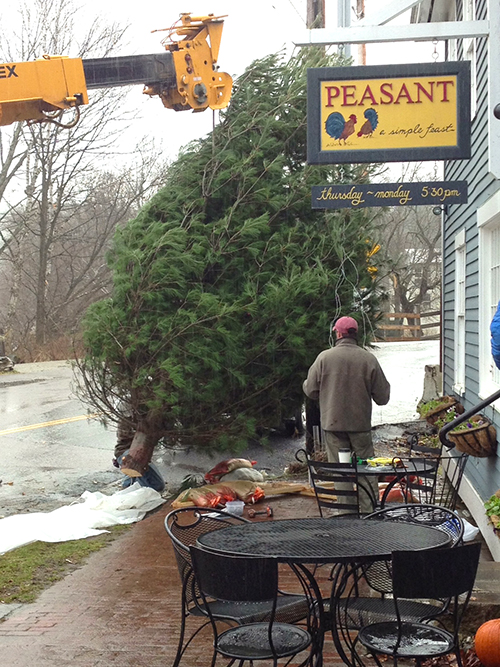 Historic Waitsfield Village is the place to be on Friday, November 29, at 5 p.m., when residents and merchants celebrate the Grand Illumination. Thousands of glimmering lights will turn the village into a shimmering wonderland.
Inspired by a television commercial originally created in Waitsfield in 1976, the Illumination is yet another example of how merchants and residents are working together. In the spirit of the original commercial, trees trimmed with white lights will once again line the sidewalks of Bridge Street and the surrounding area.
Lighting displays along Route 100 are being planned to welcome visitors. Should nature not provide her own snow, giant, white metallic snowflakes will fill in. Throughout the village, merchants are working diligently, and somewhat secretly, to make each of their locations more stunning and brighter than the next. The village bridge becomes the centerpiece as she is all decked out with a 20-foot pine tree, trimmed with 1,800 glowing bulbs, standing by her side.
The Illumination is the official start of the holiday season in The Valley to be followed by Country Christmas weekend and the Holiday Paint-In on Saturday and Sunday, December 7 and 8.
Months in the planning, the Grand Illumination would not be possible without the help of numerous volunteers and businesses and the generous donations of the tree and the greens for trimming. Waitsfield Telecom, in particular, is to be thanked for financial support and the use of trucks.
{loadnavigation}