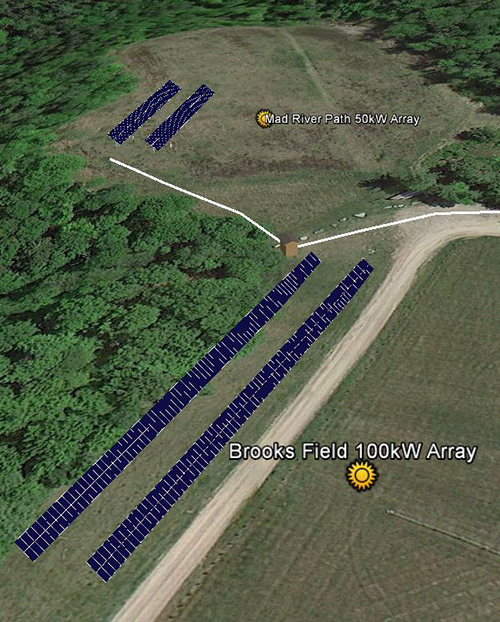 At their meeting on Wednesday, December 18, the Warren Select Board passed a motion to install a 100kW solar array proposed by Nils Behn of Aegis Renewable Energy behind Brooks Field, on a strip of land of about 40 feet by 300 feet between the road on the far side of the field and the forest behind it. The array will include 330 solar panels and produce just over 100kW of net-metered electricity.
According to Behn, once installed, the array will have an output of $0.21/kWh. That rate is set by the state and guaranteed for a minimum of 10 years, Behn explained, but with energy costs increasing, it's likely that the rate could increase to the town's benefit, rather than the other way around.
Currently, Warren's school load is $0.13/kWh and Warren's municipal load is $0.13/kWh. If 89 percent of the array output goes to the school, as Behn recommends, it will cover 100 percent of its load. The remaining output will go toward covering the municipal load.
Pending approval from the town's attorney, the contract designates Aegis Renewable Energy to install the array and a leasing company to finance the project at no up-front cost to the town.
The 12-year lease will have an interest rate of just under 4 percent, and during the lease period Warren will use the output money collected from the array to start making lease payments after one year. During that time, excess output money will be set aside to go towards a $200,000 balloon payment the town would make after 12 years. Behn estimates that by then, the town will have saved up approximately $30,000 to go toward the payment, and the town will enter into a financing plan for the remaining amount.
Included in the financing plan, the town will also put aside $2,000 a year for any maintenance costs associated with the array, with more money set aside in the later years if an inverter fails and needs to be replaced. The town will take out its own insurance for the panels, which are guaranteed for 25 years but "could easily last 30," Behn said.
"The baseline is, it's going to save the town money," Cunningham said of the array, and the board agreed that, in an era of increasing dependence on fossil fuels, utilizing renewable energy sources such as solar is the right thing to do.
{loadnavigation}