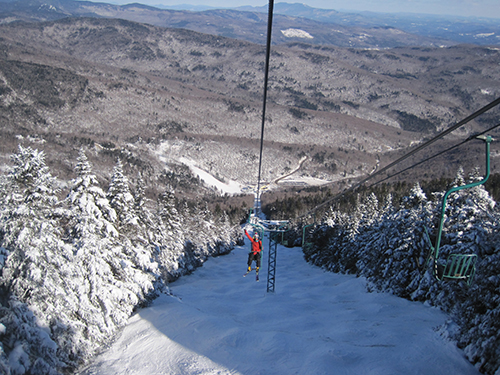 On Saturday, February 1, Mad River Glen celebrates 65 years since the Single Chair first started running with an anniversary gala in its Basebox Lodge.
Saturday's gala marks the culmination of a week of events in honor of the "ski it if you can" mountain's 65th anniversary. Last Saturday, January 25, Mad River Glen hosted Jeremy Davis, founder of the New England Lost Ski Areas Project, to give a short presentation on the rope tows and double chairlifts that once dotted the hills of Vermont but have since stopped running.
"I hope this isn't predicting our future," Eric Freidman, director of marketing at Mad River Glen, said at the start of Davis' slideshow. Despite a powdery start to the season, the ski area was forced to suspend operations on and off for a few weeks after a series of warm and cold weather turned powder into water and water into ice.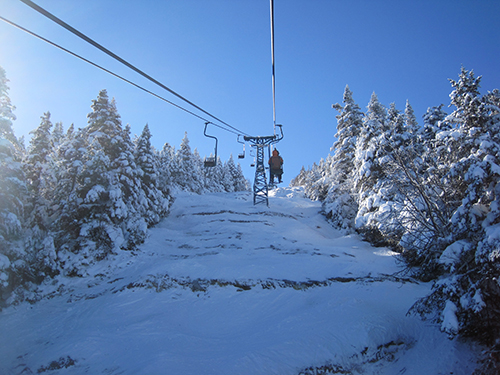 As Davis flipped through photos of abandoned T-bars and overgrown trails, however, snow fell steadily outside, and on Sunday, January 26, Mad River Glen re-opened with four to six inches of fresh powder.
The new snow was just enough to lure locals and out-of-staters alike out for Roll Back the Clock Day on Tuesday, January 28, when Mad River Glen reduced lift ticket prices to what they were when the mountain first opened in 1948
For $3.50, it didn't matter that trails contained quite a few orange "caution" signs marking spots where you could—and probably would—fall. "They have snow, they have ice, they have grass, they have rocks...," one skier said happily at the end of the day. "They have it all."
Saturday's 65th anniversary gala features dinner, live music and fireworks commemorating the senior-citizen status of the ski area, which Mad River Glen founder Roland Palmedo envisioned as "not just a place of business ... [but] a winter community." Vintage ski attire is encouraged.
For more information or to purchase tickets to Mad River Glen's gala, visit madriverglen.com.
{loadnavigation}