By Lisa Loomis
Fayston resident and Bormio Olympian Doug Lewis is in Sochi, Russia, this month covering the Olympics. The Valley Reporter reached out to Lewis to find out what he's up to and how he is faring.
Valley Reporter: What brings you to the Olympics and what happens in a typical day?
Lewis: I am working for Westwood One Radio covering all 10 of the alpine races here in Sochi. NBC hired us to handle the radio side for them. I typically get up and out of my hotel at 6:30 a.m., go through security and take a 30-minute bus to the Alpine Venue at Rosa Khutor. I get on the web and find out any last minute alpine news circulating out there. Then I head up a chairlift and connect to a gondola and arrive at the very top of the mountain. I arrive there about the same time as the sun so it really is incredible.
Then I inspect the course with the athletes and coaches collecting info from them and also getting a chance to study the course and conditions. Then it is back to the booth to call the race live. After the favorites come down, I run to the Mixed Zone to interview the medalists and U.S. skiers as they come by my little designated area. Then I have about an hour of recording wrap-ups and previews. I also attend the team captain's meetings at 5:30 each night. They are full days for sure.
Valley Reporter: As a former Olympian, how do you find the venue? How is your hotel room? Do you think the courses are dangerous?
Lewis: The Alpine Venue is the most interesting and exciting and challenging venue I have ever seen at an Olympics. The courses carve their way down the mountain and take advantage of every piece of terrain possible. The men and women each have their own courses except for a shared slalom course. If the World Cup does not return here to make their annual stops on the tour it would be a real shame.
My accommodations are excellent. Although I was lacking a few light bulbs when I arrived (since been delivered), I have a studio apartment to myself with hot water and excellent Wi-Fi. I could not ask for more. The food options are interesting with lots of fish on the menus. Shopping at the grocery store is fun as there are not a lot of photos on the packaging so you really are taking chances picking out things. I thought I was buying 1% milk and ended up with gravy!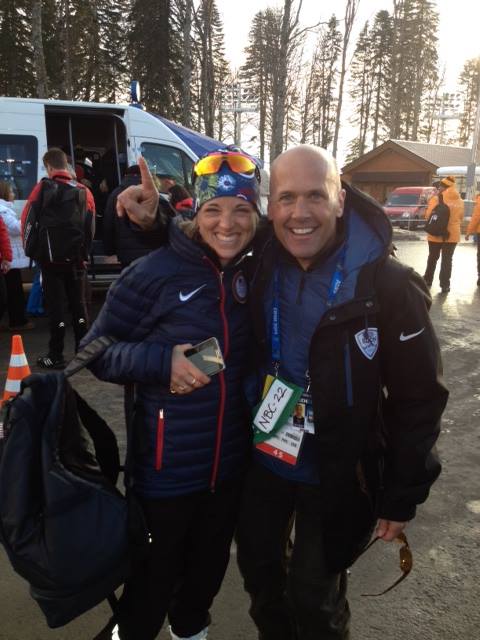 Valley Reporter: Which Vermonters have you run into since the games started?
Lewis: There is a strong Vermont contingent here from athletes to media to production people. I ran into Olympian Liz Stephen at the cross-country venue and rode the bus with Peggy Shin who writes for the USOC. I had breakfast with Ted Ligety's agent and GMVS grad Erica McConnell. I also watched Mancuso win her Bronze with GMVS grad Tik Root who is working for NBC. And I can't wait until Nolan Kasper arrives to compete in the slalom.
Valley Reporter: What are you most looking forward to? What's been the most fun so far?
Lewis: I love watching the alpine events. The men's downhill was spectacular with Bode Miller as the favorite on a super challenging course that showed its teeth all week. Watching Julia Mancuso rise to the occasion yet again blew my mind. Today is the women's downhill and Mancuso could make even more history. Because it is the Olympics, anything can happen and usually does.
Apart from skiing, I was able to watch the cross-country sprint races yesterday on a beautiful venue. The crowd was so energized it gave me chills. Watching all four of our U.S. women qualify was exciting and then watching Sophie Caldwell make the finals was inspiring. I also watched the first-ever women's ski jumping competition yesterday and they were pushing the limits of the hill and their bodies. Things will get really busy for me soon, so I do not know how much more I will be able to see outside of skiing. The slopestyle and skiercross venue is just a short gondola ride away from alpine so I hope to get over there.
Valley Reporter: What else might Valley readers like to know about your adventure in Sochi?
Lewis: As always, the media focuses attention on most everything about the athletic competitions and the athletes. It's not about unfinished hotels or stray dogs or late busses or threats -- it is about the hard work and sacrifice the athletes have put in and how they come to this event and push their limits. It's about how 200-plus athletes from 80-plus countries can bring everyone together and focus on something pure.
{loadnavigation}