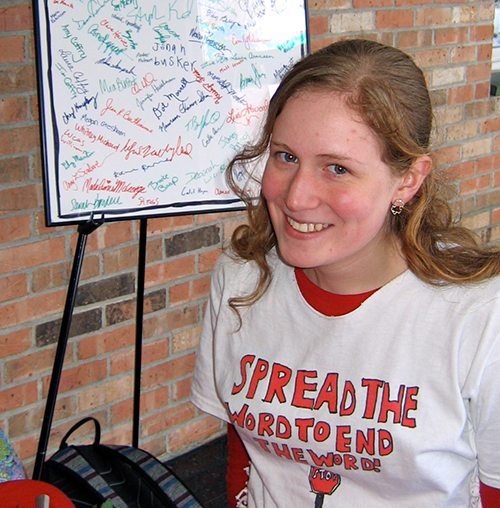 On Wednesday, March 5, Harwood Union High School's Best Buddies Club organized a pledge event for Spread the Word to End the Word Day, raising awareness of how the words "retard" and "retarded" marginalize and insult millions of people with intellectual disabilities, their families and their friends.
Last Wednesday, students organizing the event used their lunch time to ask their peers to sign a poster pledging not to use the "r-word." Many were willing to sign and some also had personal experiences they wanted to share.
Harwood's pledge event coincided with Spread the Word to End the Word's international campaign and was sponsored by the Special Olympics and Best Buddies. The campaign supports Rosa's Law, a federal ruling that removes the terms "mental retardation" and "mentally retarded" from federal health, education and labor policies and replaces them with "individual with an intellectual disability" and "intellectual disability."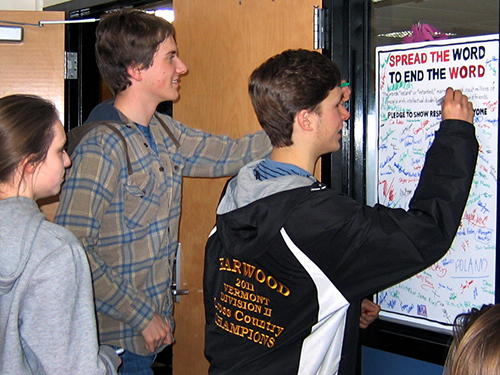 According to their advisor, Maureen Charron-Shea, the students see this project in a social justice context, promoting equity, awareness and communication for people with disabilities. They hope their work will increase social connections and provide role models to younger students.
The Spread the Word to End the Word pledge event at Harwood was also made possible with support from the Vermont Principals Association and the National Life Changer Award. For more information about the campaign or the event, check out the website r-word.org or contact Harwood's Best Buddies advisor, Maureen Charron-Shea, at  This email address is being protected from spambots. You need JavaScript enabled to view it..
{loadnavigation}