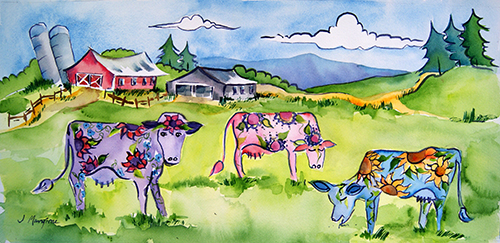 The Festival Gallery in Waitsfield presents The Gathering an exhibit of works by the artist members of the Valley Arts Foundation. The show opens on Friday, April 4, with an opening reception with artists on Sunday, April 6, from 4 to 6 p.m. All are invited to attend.
The show, the first of its kind in the Mad River Valley, highlights a broad range of artistic styles, mediums and techniques. The Gathering brings together 28 artists, all members of the Valley Arts Foundation, and their work in silver, jewelry, painting, fabric, metal, glass and photography. "This mixed-media show promises to be a very exciting introduction to what will become an annual event," said Valley Arts Foundation director Karen Nevin.
Members of the Valley Arts Foundation come from throughout The Valley, Vermont and New England. On display will be the familiar work of local Valley artists such as pastel artist Marilyn Ruseckas, photographer Roarke Sharlow and painter Dotty Kyle. A number of artists who exhibited in the 2013 Green Mountain Watercolor Exhibition are participating, including Amanda Amend and Jackie Mangione, both of whom received awards for their watercolor paintings. In addition are artists who are regular participants in the Great Vermont Plein Air Paint-Out including Doug Hoppes, Terry Boyle and Liisa Laaspere Colby.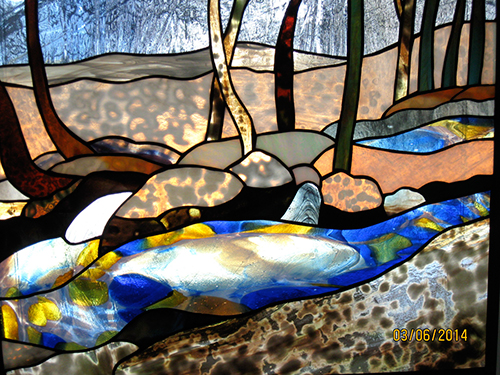 Two jewelers are displaying their work. Lori Klein has entered a green lariat-style necklace and Irene Pluntky-Goedecke is exhibiting three silver pieces. Elga Gemst of Moretown is exploring stained glass and her piece titled Icy Pools will be glittering in the window of the Festival Gallery. Caroline Tavelli-Abar's red hand-pulled linocut print Prayer Flags and Joan Lane's copper embossment Renovatio are examples of the wide range of artwork on display.
Particularly exciting are the artist members who are exhibiting their work publicly for the very first time. These Valley residents enjoy making art for personal reward. An oil painting Hazy August Day by Larry Weinstein, a rich weaving Norwegian Forest by Susan Snider and triptych of portrait photographs by Carolyn Heft will all be on display.
"This show deserves attention as it highlights the wide range of talent supported and encouraged by the Valley Arts Foundation in its endeavor to bring the very finest in the arts to the Mad River Valley," Nevin said.
The Gathering will be on exhibit through June 30 at the Festival Gallery, which is located at 2 Village Square, Waitsfield, next to The Tempest Book Store. Gallery hours vary but are generally 10 a.m. to 3 p.m., Monday through Friday, and by appointment on Saturdays. For more information call (802) 496-6682 or visit www.vermontartfest.com.
{loadnavigation}