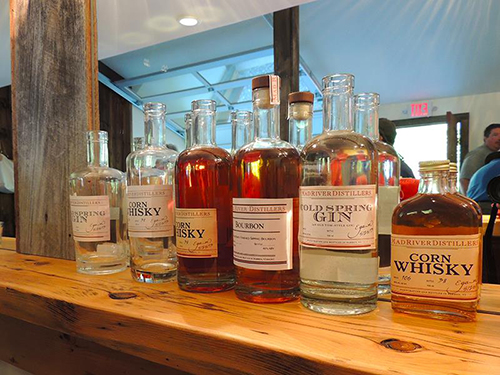 By Rachel Goff

Vermont, a state famous for its craft beers and local food, could fall among those affected by a proposed Food and Drug Administration (FDA) guideline complicating brewers' and distillers' ability to donate spent grain to farmers to use as feed.

After heating up grains during the mashing process to extract sugar, proteins and other nutrients for making beer, brewers are left with a high-volume byproduct that—while otherwise useless—is perfectly good food for livestock. For many years, brewers have been donating their spent grain to farmers, building symbiotic relationships across communities in which both industries are prevalent, including the Mad River Valley.

Mad River Distillers delivers its spent grain to farms throughout The Valley, free of charge. The process of making alcohol uses only a fraction of the grain used in making beer, but they still need a way to dispose of their waste. "Farmers are thrilled to get [the spent grain]," Brett Little of Mad River Distillers said, "and the pigs are even more thrilled."

According to Little, "Spent grain is a great source of protein," and it's clean and has been cooked, so there's little chance of microbial contamination, he explained. Still, that's what the FDA is trying to control.

Earlier this month, the FDA announced a proposed Food Safety Modernization Act guideline that would require brewers to adhere to new processes, testing, recordkeeping and other regulatory requirements in order to donate their spent grain to farmers.

Brewers across the country shared strong reactions to the proposed guideline, which would increase the time and costs associated with donating spent grain to farmers and could force some brewers to send it to a landfill instead.

As Mad River Distillers' method of waste disposal stands right now, "It's so profoundly local and green," Little said. "I can't even fathom what the FDA's problem is."

According to Mark Udall, a democratic senator from Colorado who wrote a letter to the FDA commissioner defending the repurposing of the byproduct, decades' worth of data shows no compromised food safety from livestock feeding on spent grain.

After receiving countless such letters, the FDA announced that it plans to revise the guideline's language later this summer, saying that it merely aims to ensure the cleanliness of food storage and transportation methods.

In Vermont, especially, the guideline's language could protect the so-far symbiotic relationship between the state's oldest industry, agriculture, and its newest one, craft brewing. If it didn't, "beer and food prices would have to go up," Little said, and nobody wants that.


{loadnavigation}